US dismisses talk of compromise on Iran
(AP)
Updated: 2006-03-07 07:25
Unless Iran executes a dramatic about-face and suspends all its nuclear activities, the U.N. Security Council will intervene "quite actively," a senior US State Department official said Monday.
The message to Iran is that it has "crossed the international red line" and engaged in unacceptable enrichment activity "and there must be a U.N. Security Council process to deal with that," Undersecretary of State Nicholas Burns said.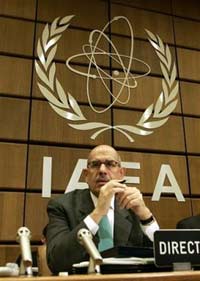 IAEA's Director General Mohamed ElBaradei waits for the start of the International Atomic Energy Agency's (IAEA) 35-nation board meeting on the escalating nuclear standoff with Iran, on Monday, March 6, 2006, at Vienna's International Center. [AP]

Burns did not say what the United States would ask the Security Council to do. While the Bush administration takes a stern line toward Tehran it might not be able to persuade other nations to impose economic or other penalties on Iran.

The U.N. nuclear watchdog agency, which voted to refer the dispute to the Security Council, will reaffirm its stance this week in Vienna, Austria, "unless Iran does a dramatic about-face and suspends all of its nuclear activities," Burns said at the Heritage Foundation, a private research group.

His remarks followed a State Department spokesman's dismissal of reports an eleventh-hour compromise might be struck over Iran's nuclear program.

Mohamed ElBaradei, head of the U.N. International Atomic Energy Agency, said at his agency's Vienna headquarters on Monday that the council might not have to consider Iran's actions. Talks between Moscow and Tehran have focused on shifting Iran's fuel enrichment activities to Russia.

The United States has long spearheaded a campaign to haul Iran before the Security Council, which has the power to impose economic or other sanctions. There was no hint of optimism at the State Department about the latest efforts to defuse the issue, which ElBaradei said he hoped could produce a resolution in a week.

"I am not aware of any specific proposals or any specific ideas that would require or force any kind of delay in Security Council action," spokesman Tom Casey said.

Casey also downplayed a new twist to the Russian proposal that diplomats described to The Associated Press. Under it, the U.N. atomic watchdog agency would set a level of small-scale uranium enrichment that Iran would be allowed to conduct on its own soil as part of an attempt to keep Iran from using the fuel for nuclear weapons, said the diplomats, who spoke on condition of anonymity.

"You can't be just a little pregnant," Casey said of the U.S. attitude toward small-scale uranium work by Iran.