Rice: sanctions unlikely first step on Iran
(Reuters)
Updated: 2006-03-05 10:41
US Secretary of State Condoleezza Rice on Saturday said the UN Security Council was unlikely to impose sanctions on Iran as a first step in dealing with the disagreement over its nuclear program.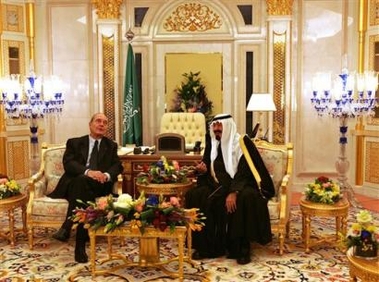 Saudi Arabia's King Abdullah bin Abd Al Aziz Al Saud, right, attends a meeting with French President Jacques Chirac, left, at the Royal Palace, in Riyadh, capital of Saudi Arabia , Saturday, March 4, 2006. Chirac is in Riyadh for three days of talks expected to deal with the crisis between Syria and Lebanon, the dispute over Iran's nuclear program and violence in Iraq. [Reuters]



"I would expect that you would need at least something that tries to give the IAEA the weight of the security council in order to get Iran to do something. But I do not think people are talking about going directly to sanctions," Rice told reporters traveling with President George W. Bush in Pakistan.

The Vienna-based International Atomic Energy Agency board voted on February 4 to report Iran to the council but on condition it would not flex its muscle at least until after next week's session.

The United States suspects Iran of using its nuclear program for weapons development, while Tehran says it is for civilian energy purposes.

Rice said Iran has not yet said what the United States and its Western allies are seeking -- that it would suspend the nuclear activities that they have restarted and that a civil nuclear program would not involve enrichment and reprocessing on Iranian territory.

"I haven't heard anything to this point that suggests the Iranians have accepted those bottom lines," Rice said.