Iran president says IAEA politically motivated
(AP)
Updated: 2006-03-03 14:24
The UN nuclear watchdog's treatment of Iran is politically motivated, President Mahmoud Ahmadinejad said on Friday, the day set for his country's last-ditch nuclear talks with European nations.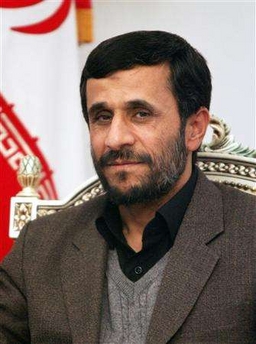 Iranian President Mahmoud Ahmadinejad is seen in Tehran, Iran February 5, 2006. Ahmadinejad said on Friday the UN nuclear watchdog's treatment of his country was politically motivated. [AP]
Ahmadinejad, who is visiting Malaysia, accused international bodies of bias, in remarks seen by at least one regional diplomat as aimed at his audience at home.
"Regrettably most international organizations have turned into political organizations and the influence of great powers prevents them from taking fair and legally sound decisions," Ahmadinejad said in a speech.
"The IAEA's ( International Atomic Energy Agency's) treatment of the Islamic Republic of Iran is politically motivated."
Top EU powers will meet Iran's chief nuclear negotiator for a last stab at dialogue before an IAEA meeting that could bring Security Council steps against Tehran over fears it secretly seeks atom bombs.
Ahmadinejad, who is known for adopting a hawkish rhetorical stance, seemed to be using the strong public statements to try and smooth his negotiator's way in the talks.
Iran wanted the talks but would not accept anything that was forced upon it, the Iranian president said.
"We never seek a fight, we believe in dialogue," said Ahmadinejad, accompanied on his trip by a large Iranian press contingent. "If some parties want to ... impose something on my nation, experience tells me and them that the Iranian nation will make them sorry.
"We are ready to talk and cooperate with everyone, with one exception, which is the Zionist regime," he said.
The West, led by the United States, suspects Iran is covertly seeking to build an atomic weapon. Iran denies this, saying it is pursuing nuclear programs purely for civilian use.
Thursday's word of the talks in Vienna was a surprise, given Iran's defiance of international calls to rein in nuclear work.
But Iran seems keen to brake momentum toward Security Council action, and the European Union appears keen to show it will listen, if not bend, to Tehran before weighing sanctions.
But no breakthrough seems on the cards, given that Tehran is speeding up uranium enrichment work geared to fuelling nuclear power plants or, potentially, weapons while going slow in talks on a Russian compromise proposal to defuse the crisis.