Iranian president accuses West of controlling global oil resources
(AP)
Updated: 2006-03-02 14:42
Iran's president on Thursday accused Western powers of trying to control the world's oil resources and creating a climate of fear that he said was forcing countries to stockpile weapons.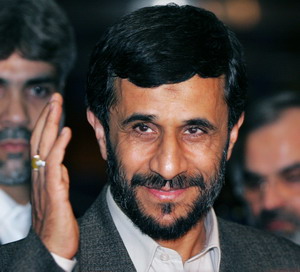 Iranian President Mahmoud Ahmedinejad waves upon arrival at Kuala Lumpur International Airport, outside Kuala Lumpur March 1, 2006. Ahmedinejad arrived in Malaysia on Wednesday, taking his international campaign to win support for his country's nuclear programme to an influential Muslim nation with strong US ties. [Reuters]
"Many of the resources of nations are going to waste in a climate of fear, being pushed toward ... the production of arms and stockpiling of weapons," President Mahmoud Ahmadinejad said in a speech to Malaysian and Iranian business leaders.
"The root cause of this is ... the excessive demands of certain ruling powers over certain parts of the world," said Ahmadinejad, who arrived here late Wednesday on a three-day visit.
"They want to have control over all world resources, financial markets of the world and state of the art technology. They want to control the oil and gas and energy resources of the world and have control of strategic points in the world," he said in Farsi. His speech was translated by his interpreter.
Without referring to any country by name, Ahmadinejad, a hardline Islamic leader who took office last year, said Western countries do not want to see any other powers emerge.
His speech did not refer to the crisis over Iran's nuclear program, which the West suspects is for creating atomic bombs. Tehran insists it is only interested in nuclear power for electricity generation.
Ahmadinejad hopes to win support for his nuclear program from Malaysia, a moderate Muslim country with deep influence in the West and strong ties with the United States.
Malaysia, the current chair of the 57-nation Organization of the Islamic Conference and the Nonaligned Movement, already has said it supports Iran's nuclear program if it is for peaceful purposes.
"We still hold to the position that nuclear technology to be used for energy ... for peaceful purposes should be allowed," Malaysian Foreign Minister Syed Hamid Albar told reporters Thursday after Ahmadinejad was welcomed by an honor guard at Malaysia's Parliament.
In an effort to end the crisis, Russia has offered to enrich uranium for Tehran so that the West can be assured that it is not being diverted to build weapons.
But on Wednesday, the chief Iranian nuclear negotiator, Ali Larijani, said in Moscow that Iran did not intend to give up its own uranium enrichment program. Larijani will hold another round of talks in Moscow on Thursday.
Enrichment can produce fuel for nuclear reactors that produce electricity or can produce fissile material for a weapon.
The U.N.'s International Atomic Energy Agency is to discuss the issue on Monday, and could start a process leading to punishment by the U.N. Security Council.
Ahmadinejad is scheduled to hold talks later Thursday with Malaysian Prime Minister Abdullah Ahmad Badawi. He will also sign several agreements with Malaysia to boost economic ties before leaving Friday.
According to Malaysian statistics, Iran is Malaysia's third-largest trading partner in the Middle East. Bilateral trade in 2005 totaled 2.7 billion ringgit (US$727 million; euro606 million).
Malaysia exports palm oil, rubber and machinery, and imports crude and refined petroleum.
Malaysia's state oil company, Petronas, has invested 4.9 billion ringgit (US$1.32 billion; euro1.1 billion) in oil and gas projects in Iran since 1996, much of it in exploration and development of the giant South Pars gas fields.