Iran says it opposes nuclear weapons
(AP)
Updated: 2006-03-01 09:01
Iran's foreign minister said Tuesday his nation opposed atomic weapons, and the U.N. nuclear watchdog agency had not found any proof it was trying to manufacture them.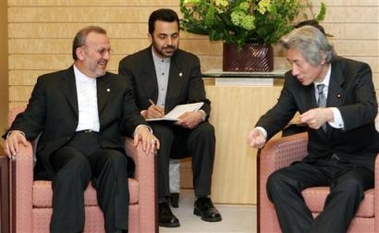 Iranian Foreign Minister Manouchehr Mottaki, left, smiles as Japanese Prime Minister Junichiro Koizumi gestures to him during a meeting at the latter's official residence in Tokyo Tuesday, Feb. 28, 2006. Mottaki, on a three-day visit to Japan, said Iran has a right to nuclear technology for peaceful purposes and is committed to not building a nuclear weapon. At center is an unidentified interpreter. [AP]
But Manouchehr Mottaki reasserted Tehran's right to nuclear technology for peaceful purposes and rejected demands that the nation end its uranium enrichment activities.
Mottaki met with Prime Minister Junichiro Koizumi and told reporters afterward he asked Koizumi to encourage Japanese companies to participate in building 10-15 nuclear power plants in Iran.
"Iran also, like Japan, enjoys its right to have nuclear technology for peaceful purposes," Mottaki said. "We are against nuclear weapons."
A confidential International Atomic Energy Agency report made available to The Associated Press on Monday said more than three years of investigation has not revealed a secret nuclear weapons program in the Islamic republic.
However, it also cautioned that a lack of sufficient cooperation by Iran meant the agency could not rule out the existence of a weapons program.
The IAEA's 35-nation board of governors will meet Monday to discuss Iran's nuclear program. The meeting could start a process leading to punishment by the Security Council, which has the power to impose economic and political sanctions.
Mottaki said the IAEA had found no proof Iran's nuclear program was intended to make weapons.
"They could not find evidence which shows that Iran has diverted from its peaceful purposes of nuclear activities in Iran," he said. "We're glad for that."
However, the report said Iran plans to start setting up thousands of uranium enriching centrifuges this year — a possible pathway to nuclear arms — even as it negotiates with Russia on scrapping such domestic activity. The Kremlin has proposed enriching uranium for Iran on Russian territory in an effort to ensure the nuclear fuel cannot be diverted for atomic bombs.
Iran went from testing a lone centrifuge — a machine that spins uranium gas into enriched uranium — to introducing the gas into 10 centrifuges and beginning enrichment between Feb. 11 and Feb. 15. The country also began final maintenance of an additional 20 centrifuges last week, reflecting determination to further expand enrichment.
That would leave Iran still far short of the thousands of centrifuges it needs to enrich substantial amounts of uranium. But just a few months down the road, "commencement of the installation of the first 3,000 ...(centrifuges) is planned for the fourth quarter of 2006," the IAEA report said.
Experts estimate Iran already has enough black-market components in storage to build the 1,500 operating centrifuges it would need to make the 45 pounds of highly enriched uranium needed for one crude weapon.
"Iran's leaders are forging ahead to acquire the material, equipment, and expertise to produce nuclear weapons," said Gregory Schulte, the chief U.S. delegate to the Vienna, Austria-based IAEA.
"This is not a peaceful program. This is not innocent research and development."
Iran was expected to resume talks with Russia this week on the enrichment offer, which is supported by the United States and European Union.
Russian President Vladimir Putin said was confident they could reach agreement.
"We are very optimistic and our judgment is that we can come to an agreement with our negotiating partners," he told reporters on a visit to Hungary.
Japanese Foreign Minister Taro Aso, who met with Mottaki on Monday night, urged Iran to stop its uranium enrichment program.
But Mottaki insisted in an interview with Kyodo news agency that Tehran would not stop enrichment even if it accepts the Russian offer for a joint enrichment venture. He said Iran has no intention of halting small-scale uranium enrichment activities for "research and development" purposes, Kyodo reported.
The comments were a flat refusal of Russian Foreign Minister Sergey Lavrov's call for Iran to freeze its own enrichment work.
An Iranian delegation was expected in Moscow on Wednesday for more discussions on the proposal after an inconclusive first round of talks. But the negotiations look increasingly unlikely to yield a deal that could assuage Western concerns.
On Sunday, Iran's nuclear chief said after talks with his Russian counterpart in Iran that they had agreed in principle to Moscow's enrichment plan. But Western diplomats dismissed the statement as an Iranian spin effort aimed at dividing the global community.
The IAEA decided Feb. 4 to report Tehran to the council over concerns it might be seeking nuclear arms. But further action was deferred until the end of next week's meeting at the insistence of veto-wielding council members Russia and China, which have close economic and political ties with Iran.
German Foreign Minister Frank-Walter Steinmeier said Tuesday he was not optimistic the Russian-Iranian talks would be successful.
"Still, I think, we should keep trying," he said.