Cornea donation dumped as donor is not dead enough
By Echo Shan (chinadaily.com.cn)
Updated: 2006-02-23 17:11
Lei Yinmin's last gift -- a pair of corneas, which could had provided a colorful world for two patients with serious eye conditions, was refused by a hospital, as, in its words, the middle-aged farmwife who was brain-dead after a tragic road mishap was not dead enough.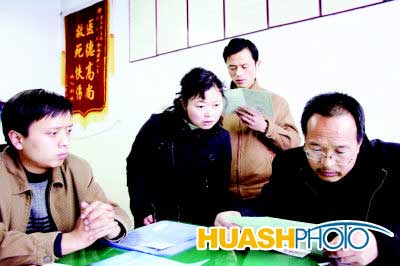 The husband of Lei Yinmin inks a agreement to donate his pair of corneas after death in Shaanxi Province, in the hope to carry out his late wife's unfulfilled will. [huashphoto]


Thirty-six-year-old Lei Yinmin, who lived in the countryside of Northwest China's Shaanxi Province, was announced brain-dead briefly by a local hospital after a traffic accident.

Acknowledging Lei's irreversible condition, her family made a brave and goodwill decision -- to hand out corneas of their past kin, to help rescue a pair of cornea transplant-waiting patients from darkness, and to better remember the dead of their beloved.

Adding fuel to the fire, the hospital's stone-firm refusal of the cornea offer pushed Lei's surviving relatives into deep sorrow and confusion.

"They just turned down our kindness, citing it may bring them trouble to get a brain-dead's cornea transplanted without the consent from both parties, the donor and the recipient," said angry Lei Zhe, Lei Yinmin's younger brother who works as a middle school teacher in Xi'an, capital city of Shaanxi Province.

"My sister has passed away and it's totally beyond possibility for her to consent to the donation," continued the outraged brother, adding "How hard for us to be socially responsible on behalf of my sister! Why?"

A hospital staff worker surnamed Shen tried explaining why the hospital refused the benign donation, saying "To be responsible for the deceased we've declined the cornea donation because based on traditional Chinese standard, brain death is not equal to clinical death, in which doctors are allowed to end all saving efforts."

In other words, Lei was still considered alive by the hospital though under a brain-dead diagnosis until a final blackout of her heartbe came several days later on February 21.

"How dare we jump at the donation in that case?" said Shen, adding, "The donation can be lawfully accepted only if endorsed in writing by the dead herself."

Allegedly moved by the good deed, the hospital highly praised Lei's relatives and felt sorry for the failed donation attempt, attributing it to a lack of relative laws and regulations.

Right now, the dead countrywoman has already been buried in her home village. Meanwhile, in the earthly world, two eye patients in urgent need of a cornea transplant still grope and hobble in midnight-like dark.

It's indeed a pity for the patients who otherwise could had been brought back into light, said professor Chen Zhonghua, deputy director with the Transplanting Branch under the Chinese Medical Association, saying, "The hospital quite understandably denied donation for the sake of risk-free management as laws and regulations concerning human organ transplant and brain death is nearly non-existent. No wonder hospitals take cautious stance at the issue, which could otherwise possibly might lead to court."

So far hospitals still follow the traditional clinical death standard, which defines death by a final stop of the heartbeat, said Professor Qu Xinjiu of the Chinese Politics and Law University in Beijing. Therefore, the professor said, the organ removal and transplant would not be carried out even if one's announced as brain-dead.

Qu added, "To tackle these kinds of problems and to save more lives waiting for organ transplants, the government should enact laws on organ transplant and come out with a clearly-defined brain death standard."

According to the current widely practiced worldwide standard, medical authorities define brain death as irreversible cessation of all brain activity. Simply stated, this means that the brain is no longer alive and cannot be brought back to life.

The determination of brain death depends on very definite clinical and laboratory findings.

Clinically, a person is brain dead when all of the following conditions are met:

6. There are no spontaneous respirations (the person cannot take a single breath on his/her own).

7. The pupils are dilated and fixed (the black of the eyes is wide and does not react to light).

8. There is no response to noxious stimulation (painful stimulation provokes no eye blink, no grimacing, and no movements of any part of the body).

9. All extremities are flaccid (there is no movement, no muscle tone, and no reflex activity in any of the limbs -- arms or legs).

10. There are no signs of brain stem activity

Brain death, regarded as a more scientific medical practice standard, has been widely recognized by more than 80 countries including China, with 14 of them having promulgated a law on that.

Since 1986, the Chinese Government has been constantly urged to bring out such a law to legally bind the significance of brain death during the nation's medical practices.

China is consistently suffering from a shortage of cornea donations, said the Beijing-based Tongren Hospital, one of China's best eye disease hospitals. Many are reported to be on the waiting list for a cornea transplant.

The first recorded cornea transplant in China was in January 1999.

Chinese people's traditional belief that people should die with a complete body is the biggest obstacle to organ donation in China, the newspaper said.

About 20,000 volunteers have signed up for cornea donation at Tongren Hospital, but most of them are college students.