China spells out plan for rural revival
(Reuters)
Updated: 2006-02-21 21:30
China has spelled out an ambitious plan to improve farmers' lives and productivity in response to rising fears about the gulf between the country's growing cities and struggling villages.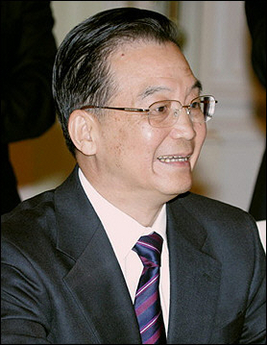 In a Lunar New Year message, Chinese Premier Wen Jiabao, seen here in 2005, vowed to use job creation and help for the poor as means to maintain social stability. [AFP] 
On Tuesday, the government issued a programme to create a "new socialist countryside" in coming years, promising increased support for farmers, improved schools and healthcare for rural families, and an end to decades of discrimination against rural migrants.
"Mobilise the forces of all society to care for, support and join in building a new socialist countryside," said the document issued jointly by the Party leadership and the State Council -- China's cabinet.
Recent improvements in farmers' income were far from enough to defuse dangerous strains in the countryside, said the document.
"At present, agricultural and rural development are still arduously crawling uphill, basic infrastructure for agriculture is weak, rural social service development is backward and the contradictions of a widening urban-rural income gap remain stark," it said.
On Monday, Premier Wen Jiabao told a meeting of ministers and provincial governors in Beijing that they must make "the fundamental interests of the farmer masses their starting and end point", the Xinhua News Agency reported.
"We're determined to adjust the nation's income distribution structure, expand public finance to cover the countryside, and enhance government provision of public services in the countryside," Wen said.
In 2005, rural residents earned an average 3,255 yuan ($405) per head, less than a third the urban average, official figures show.
China wants to remain "basically self-sufficient" in grain, it said. It promises increased subsidies for farmers growing grain. By 2007, rural students would no longer have to pay many miscellaneous fees that schools charge, and the government would increase subsidies for rural health cooperatives due to spread nationwide by 2008.
The plan promises to defuse the rural financial time bomb by diverting more bank loans to farmers, encouraging private investment in rural credit cooperatives, and cutting local government staffing and debt.