Iranian nuclear negotiators leaving Moscow: Ifax
(Reuters)
Updated: 2006-02-21 17:20
Iranian nuclear negotiators were leaving Moscow on Tuesday with no word of any progress on Russia's proposal to enrich Iranian uranium on Russian soil, the Interfax news agency said.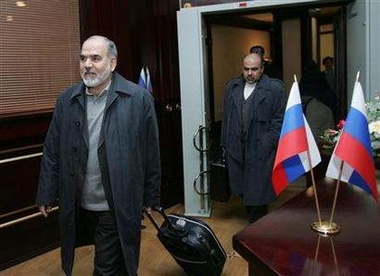 The head of the Iranian delegation, a deputy head of the Supreme National Security Council Ali Hosseinitash (L) arrives in Moscow's Sheremetyevo airport early on February 20, 2006. Iranian and Russian officials meet in Moscow on Monday to discuss a compromise deal that may be the last chance to defuse the row over Tehran's nuclear programme before Western governments seek sanctions. [Reuters]
"The Iranian delegation is leaving Moscow today at 12:00 (0900 GMT) from Sheremetyevo airport," Interfax quoted Iran's embassy in Moscow as saying in a statement. The embassy could not be immediately reached to confirm the report.