Iran supports end to violence over drawings
(AP)
Updated: 2006-02-21 09:37
Iran's foreign minister called Monday for an end to violent protests over the Prophet Muhammad caricatures that have left at least 45 people dead in the Muslim world during the past month.
Pope Benedict XVI also tried to soothe the tensions, saying religious symbols must be respected but violence can never be justified. Malaysia's prime minister warned that mistrust and fear of Islam is growing every day in the West.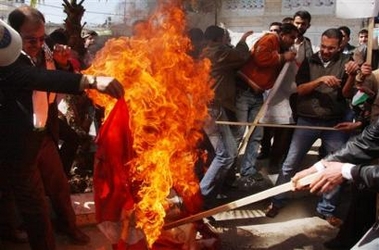 Palestinian students burn a Danish flag, during a demonstration to protest against the publication of cartoons depicting Islamic Prophet Muhammad in Western media in the West Bank town of Hebron Monday Feb. 20, 2006.Palestinian students burn a Danish flag, during a demonstration to protest against the publication of cartoons depicting Islamic Prophet Muhammad in Western media in the West Bank town of Hebron Monday Feb. 20, 2006.  [AP]
In Afghanistan, where 11 people were killed in three days of prophet protests earlier this month, about 2,000 students protested Monday, shouting "Long live Osama!," burning Danish and American flags and photos of President Bush.
In Indonesia, about 100 protesters shouting "God is Great!" burned a Danish flag in Java province, a day after protesters attacked the American Embassy in the capital, Jakarta.
"We should try to cool down the situation. We do not support any violence," Iranian Foreign Minister Manouchehr Mottaki said during a visit to Brussels.
But he also cautioned that freedom of expression must be exercised with sensitivity and full respect of other people's values and beliefs.
"We are facing ... angry Muslims all around the world. We have to try our best to avoid any violence. This is what we are trying to do in Iran," he said during a news conference at Iran's embassy to the European Union.
"So many of our policemen were attacked by angry people on the streets."
Mottaki said he had contacted European foreign ministers as well as officials from Islamic countries, trying to calm the protests.
The caricatures first printed in a Danish newspaper in September and republished recently in other European papers, offended many Muslims. One depicted the prophet with a turban shaped like a bomb with a lit fuse.
Demonstrations have turned increasingly violent and claimed at least 45 lives worldwide, including 15 who died in Nigeria on Saturday and 10 killed in the Libyan coastal city of Benghazi on Friday.
The Libyan riot outside the Italian consulate apparently was sparked by a right-wing Italian Cabinet minister who wore a T-shirt bearing one of the prophet caricatures.
Danish Foreign Minister Per Stig Moeller warned extremists would try to exploit the anger over the drawing. He condemned a Pakistani cleric's offer last week of a $1 million bounty for killing one of the cartoonists behind the drawings as "insane" and tantamount to terrorism.
"It's the extremist forces that wish to keep it going," he told reporters in Copenhagen. "There is no doubt that all extremists will exploit the situation. Al-Qaida, too, will use it and fan the fire."
He noted that protests have been tapering off in many Arab countries, while escalating in Pakistan and Turkey.
"When money is put on the cartoonists' heads, then terror is also being used," Moeller said after meeting with Norwegian Foreign Minister Jonas Gahr Stoere. "It's incitement to murder. Murder is also banned by the Quran."
In Pakistan, radical Islamic leaders called for more prophet drawings protests after the upcoming Friday Muslim prayers and lawmakers disrupted a session of Parliament, protesting sweeping arrests before a banned demonstration over the weekend.
The rallies in Pakistan appear to be taking on more of an anti-government dimension. Pakistani President Gen. Pervez Musharraf is a close ally of the United States.
Iran's foreign minister said European governments were being hypocritical in their respect for freedom of expression, pointing to the example of Holocaust deniers, who he said were being put in jail for expressing their opinions.
"When we are talking about the freedom of expression ... it is very strange to see some European authors, some European members of parties are kicked out from their post or their position because they are making or creating some doubt about some part of some historical happening," Mottaki said.
In predominantly Muslim Malaysia, Prime Minister Abdullah Ahmad Badawi called for a high-level dialogue between Muslims and the West to prevent disputes such as the one over the prophet drawings and offered to host talks.
Abdullah told the Associated Press in an interview the reprinting of the cartoons by some European newspapers in the name of freedom of press was a grave provocation, especially when the Muslim world is gripped with a sense of injustice over the U.S. invasion of Iraq and the Israeli occupation of Palestinian territories.
"In fact there was already lack of trust, and now what has happened has further (exacerbated it)," he said. "It makes us feel that we are living in a world of fear and that's no good."
Asked whether the drawings controversy indicated that Europe was becoming xenophobic and anti-Islam, Abdullah said: "I fear that this feeling toward Islam is deteriorating today, and that is a very sad thing."
The pope also tried to encourage calm.
"It is necessary and urgent that religions and their symbols are respected, and that believers are not the object of provocations that harm their progress and their religious feelings," Benedict said.
"However, intolerance and violence can never be justified as responses to offenses. One can only deplore the actions of those who profit deliberately from the offense caused to religious feelings to foment violence."
Last week, Benedict expressed support for peaceful demonstrations in the Muslim world against the cartoons.