EU to make new nukes appeal to Iran as rift deepens
(Reuters)
Updated: 2006-02-20 10:57
European officials will make a fresh appeal to Iran on Monday to halt sensitive nuclear activities, warning its foreign minister on a rare trip to Brussels that the West is fast running out of patience.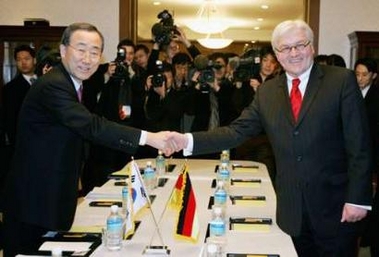 German Foreign Minister Frank-Walter Steinmeier (R) shakes hands with his South Korean counterpart Ban Ki-moon during their meeting on bilateral relations and major international issues, such as the nuclear standoffs involving Iran and North Korea, in Seoul February 19, 2006. Steinmeier arrived in Seoul on Sunday as part of an Asian tour. [Reuters]
The visit by Manouchehr Mottaki comes after Tehran last week resumed uranium enrichment in defiance of possible sanctions in the U.N. Security Council, and despite talks due next week on a Russian offer to enrich uranium on Iran's behalf.
Tensions have been fueled by President Mahmoud Ahmadinejad's recent verbal onslaughts on Israel and Western suspicions that Iran has deliberately stoked up Muslim anger over cartoons of the Prophet Mohammad published in European newspapers.
"It is very important we repeat to Mr Mottaki the position of the EU on a range of issues -- nuclear, the Middle East peace process, democracy and human rights," said a spokeswoman for EU foreign policy chief Javier Solana, who will meet Mottaki.
"We want a suspension of enrichment, adherence to the Additional Protocol (allowing snap U.N. inspections of nuclear sites) and a change in tone," said Geoffrey van Orden, a senior member of the European Parliament foreign affairs committee.
"What we can't allow is that they think they can drive a wedge between Europe and the United States," said British conservative van Orden, whose committee will receive Mottaki for a potentially abrasive question-and-answer session.
The U.N. nuclear watchdog voted this month to report Iran to the Security Council over fears -- denied by Tehran -- that it is trying to build an atomic bomb, after 2-1/2 years of European diplomacy with Tehran reached a dead end.
Mottaki will also hold talks during the one-day trip with EU External Relations Commissioner Benita Ferrero-Waldner and with Belgian Foreign Minister Karel De Gucht.
EU officials see the timing of the visit as no coincidence given the new depths which Iran's relations with the West have plumbed in recent weeks, and regard it as an effort by Tehran to defend its policy before a wide European audience.
With Mottaki not seen as a key player on the nuclear case, Solana and other EU officials will use the visit to urge Iran to cease alleged contacts with Islamic groups listed by the EU as terrorist organisations and raise concerns over human rights.
The EU in December accused Iran of a catalog of abuses ranging from media censorship through to child executions and has been angered by Tehran's failure to stop attacks by protesters on European missions in Iran.
"It is unacceptable that leaders do not do the absolute maximum to halt the violence," said Solana's spokeswoman.