Folding bikes perfect answer to traffic jams
By Wu Chong (China Daily)
Updated: 2005-12-03 06:29
Commuting is almost never fun. People clog the streets in their Audis and BMWs. Others stand in cramped buses and subway trains.
But in this kingdom of the bicycle, for some commuters, the folding variety is the pick of the year.
"During rush hour every day, I see about 30 people carrying folding bikes to the station," an employee of the Shaoyaoju subway station said. There are more folding bike carriers in the busier stations such as Jianguomen and Jishuitan.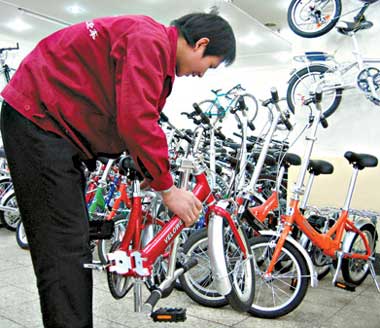 Folding bikes: a commuter's dream. [China Daily]

The craze for folding bikes has become so widespread that Beijing Subway authorities had to post a notice last month asking people to be sure their bikes are folded well before entering the stations.

Sun Dale, a white-collar worker who bought a folding bike in May, said it has been indispensable.

There is no direct bus or subway shuttle between Sun's home and his workplace. He used to ride the bus for 40 minutes from home to the subway, and after 40 more minutes on subway, spend another half-hour on the bus to reach his office.

"If the traffic is heavy which it always is I would spend more time," he said.

But with the folding bike, it takes Sun only a little more than one hour to get to work. "I ride to the subway station, fold the bike on the train, and unfold it once off the train for another ride to my office," he said.

Another benefit of a folding bike is that if you're carrying it, it can't be stolen, Sun said. "You can easily put it in a small corner in a lift, your apartment or office," he said. His 6-kilogram bike cost him 1,000 yuan (US$123). The price is almost the same as that of his mountain bike, which was stolen last month.

Wang Qinghua, an employee at the Jinghuiqiao Bicycle Store, said sales of folding bikes this month have reached 60, four times the number sold at the same time last year.

And the types of folding bikes, with a height of less than 1 metre and a weight of less than 10 kilograms, have increased from three to eight during the period, Wang said.

"Those aged between 20 and 30 who live in skyscrapers and find it difficult to park nearby or have to travel a long distance to work are the main buyers," the salesman said.

He predicted the sales of folding bikes, priced between 400 and 1,000 yuan (US$50 to 123), will continue to rise next year.

(China Daily 12/03/2005 page1)