Woman says 'merci' after face transplant
(AP)
Updated: 2005-12-02 22:08
The first post-surgery words of a woman who underwent the world's first partial face transplant were "thank you," one of her doctors said Friday. Bernard Devauchelle said the patient regained consciousness 24 hours after the groundbreaking operation Sunday.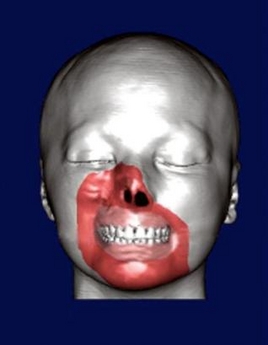 This image released by the Lyon Hospital, Friday Dec. 2, 2005, shows a model of the defects in the first partial face transplantation. A 38-year-old woman, whose identity has not been disclosed, had surgery on Sunday Nov. 27, by French surgeons Dr. Jean-Michel Dubernard and Dr. Bernard Devauchelle to replace her nose, lips and chin in Amiens, northern France. The donor was a brain-dead patient whose family gave consent. [AP]
"There were no post-surgical problems," he said at doctors' first news conference on the French transplant that has set off a debate among scientists over ethics but also won praise as a potentially pioneering, if risky, procedure.
"The patient was awake at the 24th hour and ... her first word was 'merci,'" Devauchelle said. Behind him were projected images of the facial portions that were transplanted — a section of the nose, lips and chin.
The 38-year-old woman, whose identity has not been disclosed, was mauled by a dog in May, leaving her with severe facial injuries that her doctors said made it difficult for her to speak and eat. The donor was a brain dead woman.
Leading transplant surgeon Jean-Michel Dubernard acknowledged that he had initial reservations in the planning stages of the surgery. But he added that when he saw the extent of the woman's disfigurement, "I no longer hesitated for a second."
He denied a French media report that the woman was attacked by the dog after she had passed out from having taken pills in a suicide attempt. Instead, he said the woman had taken a pill to try to sleep after a family argument and was bitten by the dog during the night.
"There was no suicide," Dubernard said. The woman was examined by several psychiatrists in the lead-up to the surgery and "all these teams gave the green light."
He added that the woman was doing well on Friday.
The director of the hospital in Amiens, northern France, where the transplant was carried out last Sunday said the surgery was required because the recipient's case was exceptional.
"We are in an exceptional situation that required an exceptional response," said Philippe Domy.
Carine Camby, director-general of the agency under the French health ministry that coordinates organ procurement said the woman was warned that she risked becoming a center of media attention because the surgery was a world's first.