Loaded, nuclear power plant stands ready
(Xinhua)
Updated: 2005-10-24 15:11
LIANYUNGANG -- The Tianwan nuclear power station in this coastal city of east China's Jiangsu Province started nuclear operation Sunday morning, as fuel loading for its No.1 generator, which began last week, is proceeding smoothly.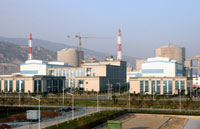 Tianwan nuclear power plant in Lianyungang. [newsphoto file]

The Tianwan station boasts so far the largest generators in installed capacity in China, sources at the power station said.

The nuclear power station, also the largest Sino-Russian economic cooperation project, obtained approval for fuel loading from the State Nuclear Security Bureau early last week. It began loading on October 18 and has since loaded 86 sets of nuclear fuel assembly into the reactor core. The whole loading process will last 10 days, involving a total of 163 sets of nuclear fuel assembly, the sources said.

Construction work started in October 1999 on the Tianwan nuke project. Its first phase includes two pressure water reactor generators, each with an installed capacity of 1.06 million kilowatts.

The sources said the nuke site can accomodate eight generators each with an installed capacity of one million kW or more and with a combined capacity of 8-10 million kW. Upon completion, the powerstation will generate 60-70 billion kWh of electricity a year and realize more than 25 billion yuan (US$3.08 billion) in annual output value.

Started in the 1980s, China's nuclear power industry now has generators with a total installed capacity of 6.7 million kW, with10 generators under construction with combined capacity of some 9.3 million kW. Currently, nuclear power accounts for 2.3 percent of electricity generated nationwide annually, yet the proporation has reached 13 percent in economically developed Guangdong and Zhejiang provinces, as against the 16-percent average of the world.

China plans to build 31 nuclear power stations by 2020, and increase the total installed capacity of all nuke projects to 40 million kW.