South Korea, North Korea jointly celebrate Liberation Day
(Reuters)
Updated: 2005-08-15 09:40
North Koreans and South Koreans on Sunday began celebrating the 60th anniversary of independence from Japanese colonial rule amid calls for unification despite an unresolved crisis over Pyongyang's nuclear plans, Reuters.
The four-day event highlights renewed exchanges between the two and comes during a recess in six-country talks aimed at ending North Korea's nuclear ambitions.
Two North Korean passenger jets flew from Pyongyang to Inchon near Seoul on Sunday carrying 182 delegates led by senior communist party official Kim Ki-nam.
After an unprecedented visit to the South's national cemetery to pay respects to soldiers killed in the Korean War, the North Korean delegates joined South Koreans at the opening ceremony, which played to the people's apparent desire for unification.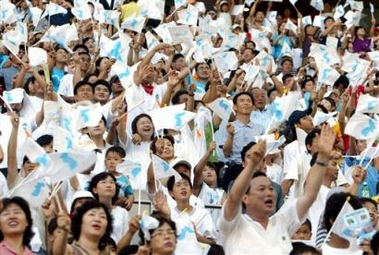 South Koreans wave reunification flags during the friendly match between South and North Korea marking the 60th anniversary of liberation, at the World Cup Stadium in Seoul, South Korea, Sunday, Aug. 14, 2005. [AP]

"We must overcome regional and partisan interests to join the will and strength of the nation," Kim told the crowd.

South Korean Unification Minister Chung Dong-young welcomed the North Koreans' visit to the national memorial, saying it would help to usher in "a new future of national harmony".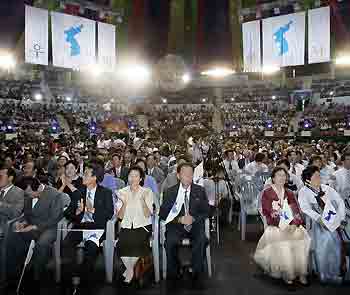 The North Korean delegation attends the opening ceremony to mark the 60th anniversary of the peninsula's liberation from Japanese colonial rule in Seoul August 15, 2005. [Reuters]

"We must set aside our painful past and reconcile, help each other and join hands to walk toward the mutual prosperity of the nation," he said.

The crowd chanted, "Uri-nun hana" (we are one) and a banner unfurled from the roof of the stadium with the message: "Unification has already happened."

South and North Korea are technically at war under a truce that ended the 1950-53 Korean War which left the Korean peninsula divided. There has been a rapid warming of ties following an unprecedented and unrepeated summit of the two Korean leaders in 2000.