Asia marks anniversary of Japan surrender
(AP/Xinhua)
Updated: 2005-08-15 09:09
Still stinging with anger and sorrow, many Asians Sunday marked the 60th anniversary of Japan's World War II surrender by honouring their dead, burning Rising Sun flags and demanding compensation amid rekindled tensions over Japanese abuses, the Associated Press reported.
Hu: China marks war to promote peace
Chinese President Hu Jintao said Sunday the Chinese people are commemorating the victory of the resistance war against Japanese aggression to keep history in mind, cherish peace and create a better future, according to the Xinhua News Agency.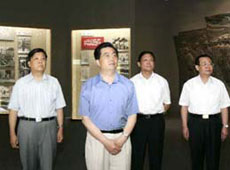 "We will seize the opportunity to concentrate on construction and development," Hu said during his visit to a large-scale commemorative exhibition held near the Lugou Bridge (also known as the Marco Polo Bridge).
"We will always steadfastly pursue the peaceful development road and join with all nations in the world to collectively advance the lofty causes of peace and development of humankind," said Hu.
The exhibition, which is about the 60th anniversary of the victory of China's resistance war against Japanese aggression and the world war against fascists, consists of pictures, relics, reconstructed scenes and other articles to reflect the war period.
Hu presented a basket of flowers to a large scale sculpture of a mass of people entitled the Bronze and Iron Walls, which portrays the Chinese civilians and army joining hands to fight Japanese aggressors.
At the close of the visit, Hu said holding the exhibition at the 60th anniversary of the victory of China's resistance war against Japanese aggression is of great significance.
"The exhibition faithfully reflects the glorious path of the Chinese people's heroic fight against Japanese aggressors," said Hu. "They are vivid teaching materials for education in patriotismamong the people, especially the young people."