Indonesia now a strategic partner
By Qin Jize (China Daily)
Updated: 2005-04-25 23:52
JAKARTA: China and Indonesia - the largest country in Southeast Asia - signed a joint declaration for a "strategic partnership" yesterday, signalling a new determination on both sides to further consolidate bilateral ties.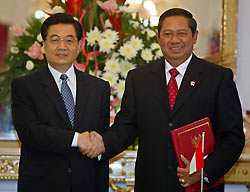 President Hu Jintao (L) and Indonesia's President Susilo Bambang Yudhoyono shake hands after they sign agreements establishing a "strategic partnership" between the two Asian countries at the presidential palace in Jakarta April 25, 2005. [Reuters]
At a meeting in the Presidential Palace in Jakarta, visiting President Hu Jintao and Indonesian President Susilo Bambang Yudhoyono also witnessed the signing of another eight accords aimed at advancing Sino-Indonesian partnership.
Visa exemption for diplomatic and service visits, maritime co-operation, infrastructure and natural resources, economic and technological assistance, finance, preferential buyer's credit, and earthquake and tsunami-relief are the main contents of the eight agreements.
Hu is currently spending two days in Indonesia on a state visit after attending the Asian-African Summit and celebrating the 50th anniversary of the Bandung Conference.
He will fly to the Philippines later today, the last leg of his tour of three Southeast Asian nations, including Brunei.
Fruitful talks
"This is a fruitful meeting," he said later in a joint press briefing, "the joint declaration not only marks a new stage in the China-Indonesia relationship, but also will exert a positive influence on the development of China-ASEAN ties and the solidarity and co-operation among Asian and African countries."
The two sides agreed to expand trade co-operation, aimed at increasing the annual bilateral trade volume to US$20 billion within three years, said Hu.
Last year bilateral trade reached US$13.48 billion, up 31 per cent on the previous year.
Co-operation in areas of infrastructure construction, energy and resource exploitation, agriculture and fishing are also to be enhanced, he added.
China, said Hu, will provide 30 million yuan (US$3.63 million) worth of assistance to Indonesia, and another US$300 million in preferential loans for infrastructure construction and the reconstruction of its disaster-hit areas.
Previously it had pledged US$400 million worth of preferential loans to Indonesia.
In addition, the Chinese Government has decided to provide another US$2 million worth of rescue relief, including US$1.5 million in cash, to the earthquake-hit areas.
The relief aid was carried to Indonesia aboard Hu's special plane.
Shortly after last month's massive earthquake hit Indonesia, the Chinese Government offered US$500,000 cash and the Red Cross Society of China provided US$300,000 in cash to the relief effort.
President Hu also suggested developing the Sino-Indonesian strategic partnership by focusing on seven aspects: Strategic consultation, economic co-operation, security consultation mechanism, anti-disaster co-operation, social exchanges, China-ASEAN ties and solidarity and co-operation among developing countries.
The Indonesian president expressed his appreciation of the assistance offered by the Chinese Government and hailed the seven proposals, saying Hu's visit to Indonesia was a "milestone" in bilateral relations.
He said Indonesia welcomes China playing an active role in Asian and international affairs and the establishment of a strategic partnership would expand the fields of friendly co-operation between the two countries.
Susilo also accepted Hu's invitation to visit China in the latter half of the year and the two sides agreed to establish a vice-premier level dialogue mechanism as a way to strengthen strategic consultations.
The two sides also decided to open consulate-general offices in Shanghai and Surabaya respectively.
Mulia Nasution, director general of the Treasury of the Indonesian Ministry of Finance, said the preferential loan from the Chinese Government was "a concrete step in terms of financial co-operation."
As an example of financial co-operation, he said, China Development Bank, a State policy bank, is planning to be involved in a palm oil plantation project in Indonesia.
"If it works, the business is expected to expand to the capacity of US$500 million by the end of this year."
In addition to governmental co-operation, he would like to encourage more business-to-business co-operation.
In terms of tsunami-relief work, the Red Cross Society of China is planning to build a Friendship Village for 300 families in devastated Aceh in the north of Sumatra.
"The project will cost US$3.4 million and the village will have public facilities including schools and clinics," said Jiang Yiman, vice-president of the society.
Chen Jianmin, head of the China Seismological Bureau also expressed the hope that a long-term co-operative mechanism in the field will be established after the signing of the agreement.

(China Daily 04/26/2005 page1)