World Bank increases tsunami aid to Sri Lanka
(Agencies)
Updated: 2005-02-25 10:02
The World Bank on Thursday approved an additional $75 million in emergency aid for Sri Lanka's tsunami recovery and reconstruction effort, bringing to $150 million the total assistance made available this month.
The new funding will help victims of the December disaster rebuild houses, provide employment opportunities and fund repairs to infrastructure systems including roads and water supply, the World Bank said in a statement.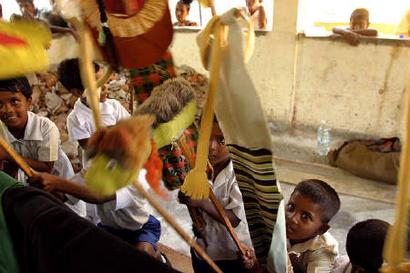 Young Sri Lankan tsunami survivors play with puppets at the Akurala Primary College relief camp in Galle in southern Sri Lanka, February 24, 2005.[Reuters]

Of the funds approved on Thursday, $30 million is a grant and the rest is a credit from the bank's lowest-cost financing arm, the International Development Association, the statement said.

"The financing package approved today is geared to help people get their lives back, but as the recovery and rebuilding progresses and as other donors come to the table, we will be flexible about the areas we finance," said Peter Harrold, World Bank Country Director for Sri Lanka.

The Washington-based lender and other donors estimate the total financing needs for Sri Lanka's recovery and reconstruction to be about $1.5 billion to $1.6 billion.

The tsunami, triggered by a massive earthquake in the Indian Ocean on Dec. 26, battered Sri Lanka's coastlines, where nearly 40,000 people were killed and more than 100,000 homes damaged.

Government and health officials said the tsunami killed an estimated 300,000 people in 11 countries, most of them in Asia but reaching as far as the coast of East Africa.