Gay vows 'I do' across Massachusetts
(Agencies)
Updated: 2004-05-18 11:20
I do, I do, I do.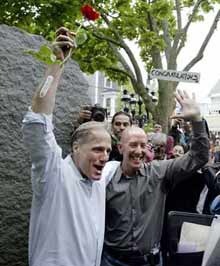 Jon Goode(L) and Cary Raymond(R) cheer after being married in Provincetown, Massachusetts, May 17, 2004. [Reuters]

Dozens of gay and lesbian couples across Massachusetts promised to love, honor and cherish one another until death do them part, making history as church bells tolled and hundreds of friends and well-wishers dabbed tears of joy.

The slew of same-sex weddings looked on the surface like any nuptials. Talk swirled about how the couples met, who designed their outfits, and what to buy them as a present.

But then there were the blazing camera lights, journalists shouting questions, and the woman who caught the bouquet at one wedding: the lawyer credited with having made it all possible.

Applause turned downright thunderous as ministers and town clerks everywhere told gay couples, for the first time ever, "By the power vested in me by the Commonwealth of Massachusetts I pronounce you legally married."

Massachusetts on Monday became the first U.S. state to allow gay marriages, following a ruling last November by the state Supreme Judicial Court.

At Boston's historic Arlington Street Church, Robert Compton and David Wilson were serenaded by the Boston Gay Men's Chorus singing "Marry Us". Julie and Hillary Goodridge walked into their wedding to standard wedding music, slightly altered when friends and family belted out "Here Come the Brides".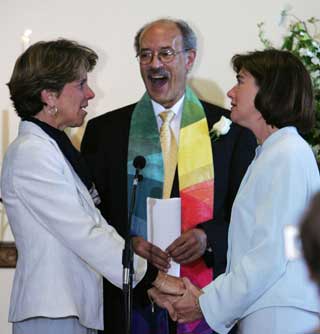 Successful same-sex marriage lawsuit plaintiffs Hillary (L) and Julie Goodridge are proclaimed joined in matrimony by Unitarian Universalist Association President, Rev. William Sinkford, at the culmination of their wedding ceremony in Boston May 17, 2004. Massachusetts became the first state in the United States to legally sanction same-sex marriage based on the ruling of the Massachusetts Supreme Judicial Court, won by the Goodridges, requiring the state to issue marriage licenses to gay and lesbian couples. [Reuters]
These brides, dressed in ice blue and dove-gray pantsuits, bought their finery from Giorgio Armani, having decided long ago to forgo poofy wedding gowns and veils.
"I spent more on this than I did on my first two cars," said Hillary Goodridge, whose lawsuit led to the state court decision. "You only get married once," she said.
Wilson and Compton giddily showed off their gold and diamond wedding rings, and others plugged the jewelers who made their bands.
In fact, Boston's Shreve, Crump & Low, the country's oldest luxury jeweler, may see a dramatic jump in business over the next weeks and months as thousands of same-sex couples rush to the altar, guests at several weddings predicted.
"Soon I'll be heading to Shreves saying 'I'll have 12 of that and 14 of that please'," joked Arline Isaacson, co-chair of the state's Lesbian & Gay Political Caucus.
Money manager Amy Domini, who invests billions of dollars in socially responsible funds, takes credit for having introduced the Goodridges and joked that her "little fix-up turned into a national crisis, an election-year fault line."
And that interest is what drew dozens of national and foreign journalists to record moments like the instant Mary Bonauto, the Boston lawyer who represented the Goodridges in the court case, caught a bride's lilies-of-the-valley nosegay and stuff it into her black briefcase.