Europe says Iran nuke talks have stalled
(AP)
Updated: 2006-01-13 08:42
European foreign ministers said Thursday that nuclear talks with Iran had reached a dead end after more than two years of acrimonious negotiations and the issue should be referred to the U.N. Security Council.
The top diplomats from France, Germany and Britain, however, held back from calling for the 15-nation council to impose sanctions and said they remained open to more talks.
U.S. Secretary of State Condoleezza Rice also said a "strong message" had to be sent to Tehran but said she was not ready to talk about what action should be taken to curtail Iran's nuclear ambitions.
Iran's top nuclear negotiator, Ali Larijani, told U.N. Secretary-General Kofi Annan that Tehran was interested in resuming "serious and constructive negotiations" with the Europeans but this time wanted a deadline.
Senior Iranian negotiator Java Avid, meanwhile, said the Europeans should step back from referring his country to the Security Council, warning it would not change Iran's behavior but would lead to a tough response.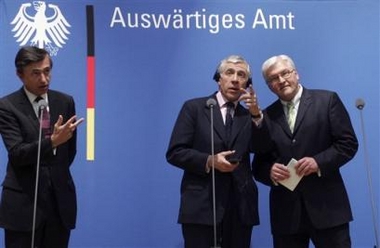 The Foreign Ministers from France, Philippe Douste-Blazy, Great Britain, Jack Straw and Germany, Frank-Walter Steinmeier, from left, brief the media after a meeting in Berlin on Thursday Jan. 12, 2006.[AP]

The statements came two days after Iran broke U.N. seals at a uranium enrichment plant and said it was resuming nuclear research after a two-year freeze. Iran insists its nuclear program is peaceful, while the U.S. and others say it is aimed at producing weapons.

Negotiations aimed at getting Iran to permanently abandon uranium enrichment had reached "an impasse," the Europeans said, citing what they called a "documented record of concealment and deception." Enriched uranium can be used for fuel or, at high levels of enrichment, weapons.

In a joint statement, they charged that Iran seemed "intent on turning its back on better relations with the international community."

The ministers called for a special session of the International Atomic Energy Agency to decide on referral to the Security Council, which could impose sanctions.

"From our point of view, the time has come for the U.N. Security Council to become involved," German Foreign Minister Frank-Walter Steinmeier said after meeting with his French and British counterparts and the European Union's foreign policy chief, Javier Solana.

Steinmeier said the three countries would inform the IAEA board "that our talks with Iran have reached a dead end." He stressed the Europeans remain ready to solve the problem "diplomatically, multilaterally and by peaceful means."

Europeans stressed it was too early to discuss sanctions. Diplomats from France and Germany indicated time was needed to get the international community to agree on what measures should be considered for dealing with Iran. One possibility was seen as seeking sharper language from the U.N. nuclear watchdog in Vienna, Austria.