Proposed traffic regulation under fire
By Wu Jiao (China Daily)
Updated: 2006-03-17 05:43
NANJING: A proposed traffic regulation aimed at stopping jaywalkers by punishing them at work has come under fire from residents and experts.
The plans were released recently by local media in Nanjing, capital of East China's Jiangsu Province.
The new regulation, still being drafted, proposes that all enterprises and institutes in the city work together with the traffic bureaux to jointly punish those walking on roads against traffic regulations.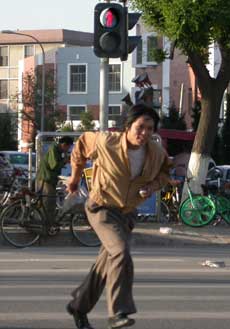 A man runs across the road on a red pedestrian light in this file photo. [newsphoto]

Under the new rules, work promotions and bonuses could be denied for employees who are repeatedly reported for jaywalking by traffic policemen, reportedly Yangtze Evening Post.

Some 271 deaths were attributed to jaywalking last year in Nanjing, counting for 48 per cent of the total death toll in traffic accidents.

Many residents claim more attention should instead be paid to the safety of people, particularly the old and young, using pedestrian crossings, as they claim the green "walk lights" are too short at some major crossroads.

And others have hit out at the new proposed regulations.

"What's the meaning of making a fuss of these trivialities, which are mostly unintended?" said Wang Wei, who works for a foreign-funded enterprise. "It may also violate our human rights."

Lawyer Liu Zhengchao, from the Contemporary Security Law Firm, questioned the feasibility of the proposal.

"People's salaries should be based on one's professional performance. It is nonsense to say their wages could be affected by things that happen outside of work," said Liu.

But the country's Road Traffic Safety Law states clearly that every institute or company has the responsibility to educate their staff on traffic regulations, according to a worker surnamed Zhang with Nanjing Municipal Traffic Administration Bureau.

"Therefore, we are seeking co-operation with each unit for a more efficient way to combat jaywalking. But whether they will agree or not is still up to them. We have no right to force them to accept it," said Zhang.

According to Zhang, Nanjing's traffic management and system has been acknowledged as the best across the country for the past four years. But jaywalkers have endangered both its safety and image.

The situation has been worsened by speeding drivers and construction projects blocking major roads.

An existing group of "traffic co-ordinators" is mainly responsible for tackling jaywalking in Nanjing.

"It's tough," said a traffic co-ordinator in Baixia Road.

"Plenty of people still ignore traffic rules, even if I give them the sign to stop. Unless severe punishments are imposed on them, those pedestrians will never care."

Zhang said tackling the issue would take a long time.

"It is a long-term problem. It needs years of publicity and education to adjust their traffic habits. We have only just started," he said.

The city has already beefed up its punishments against jaywalkers since the start of this month.

Jaywalkers will be fined 20 yuan (US$2.5) if they cross roads on a red pedestrian light or do not use zebra crossings, and the fine soars to 50 yuan (US$6.25) for cyclists and moped drivers.