Rice says Iraq transition will take time
(AP)
Updated: 2006-03-16 16:02
Secretary of State Condoleezza Rice said Thursday that Iraq's political transition will take a couple of years, acknowledging the process that is currently stalled will not move swiftly.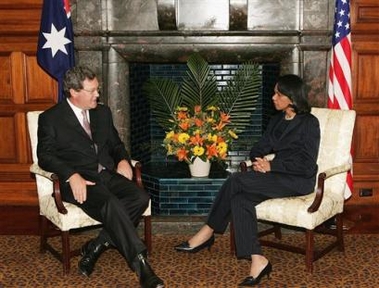 Australia's Foreign Minister Alexander Downer, left, and U.S. Secretary of State Condoleezza Rice talks during their meeting on Thursday March 16, 2006 in Sydney, Australia. Rice is in Australia to attend the Trilateral Strategic Dialogue with Australia's Foreign Minister Alexander Downer. [AP]


"I think that there is a very good chance that the Iraqi people, with the support of their coalition partners, will build a good foundation, a political foundation, for a stable and secure Iraq over the next couple years," Rice said. "This is a difficult task."

She added, "We should express confidence in them because every time they have been confronted with a challenge," Iraqis have risen to the occasion.

On Wednesday, the Pentagon announced it was sending up to 800 more troops to Iraq and repositioning thousands of others in response to increased violence in the country and fears of more fighting prompted by a Shiite holiday.

Rice spoke after meeting with Australian Foreign Minister Alexander Downer for talks that also covered Iran's nuclear program, Indonesia's development and the recent nuclear deal between Washington and India.

She urged Iran to resume negotiations over its nuclear program, while also calling the country the "central banker of terrorism."

She said she was "quite certain the (U.N.) Security Council will find an appropriate vehicle for expressing again ... the desire of the international community ... that Iran return to negotiations."

Later Thursday, Rice was twice shouted down by anti-war protesters as she spoke to students at Sydney University's music school.

"Condoleezza Rice, you're a war criminal," a young man shouted minutes Rice began her address. "Iraqi blood is on your hands and you can't wash that blood away," he repeated until guards led him away.

Rice drew applause with her response: "I'm glad to see that democracy is well and alive at the university," she said, adding that democracy is now also alive at universities in Kabul, Afghanistan, and Baghdad, Iraq.

Rice's remarks echoed President Bush's defense of U.S. policy in Iraq this week, as the third anniversary of the U.S. invasion approaches.

A day before Rice arrived, Australia said it will keep troops in Iraq at least well into next year and announced a larger mission for about 450 troops now stationed in southern Iraq. Iraq will be the focus of remarks Rice plans to make to university students in Sydney later this week.

She also will join three-way security talks with Japanese and Australian officials. Those sessions will include discussions about China's growing military might and its influence in the Asia-Pacific region, said Downer.

"The challenge is to make sure that the growing power of China ! its economic power in particular ! is harnessed to the advantage of the region," Downer told Sky News.

Downer said the ministers would be looking not at containing China, but at ensuring it works with the region.

"That depends on China itself ! making sure it acts responsibly, and I think China is acting responsibly ! they've been doing a good job, for example, on North Korea ! but also, ensuring that the region itself understands the growing role of China."

Downer added, "The rise of China can become a real positive , but it has to be managed."

Last week, Rice said the three countries must "make sure that we're looking at a Chinese military buildup that is not outsized for China's regional ambitions and interests."

That policy has drawn sharp criticism from some analysts.

"What initially seemed like a useful deepening of an established alliance is fast developing into a prototype security relationship of the worst kind," Alan Dupont, a visiting fellow at Sydney's Lowy Institute for International Policy, wrote in the national newspaper, The Australian. "One which is exclusive rather than inclusive, risks needlessly alienating China and looks like the forerunner to an old-style, Cold War alliance."

Saturday's meeting comes against a backdrop of heightened tensions between China and Japan after Japanese Foreign Minister Taro Aso described Taiwan as a country.

Although Taiwan has been self-ruled since splitting with the mainland amid civil war in 1949, China claims the island as a province and stridently objects to other governments describing it as a country.

Beijing described Aso's comments as "a brutal interference in China's internal affairs and territorial sovereignty," according to a statement issued last Saturday by the Information Office of the State Council, China's Cabinet.

Rice called off an earlier visit to Australia and Indonesia in January because of the illness of Israeli Prime Minister Ariel Sharon. The decision was widely viewed as a snub in Australia, which had planned the visit to inaugurate the three-way talks with Japan.

The talks were rescheduled for this visit.

While in Australia, Rice was also visiting U.S. troops moored in Sydney's harbor and attending the Commonwealth Games athletic competition in Melbourne.