Minister: China risks environmental disaster
(AP/China Daily)
Updated: 2006-03-13 08:08
China must sharply improve environmental protection or it could face disaster following two decades of breakneck growth that have poisoned its air, water and soil, the country's top environmental official warned Saturday.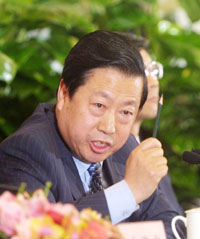 Zhou Shengxian, director of the State Environmental Protection Administration, speaks at a news conference in Beijing March 11, 2006. [newsphoto]

The director of the State Environmental Protection Administration said that more than half of China's 21,000 chemical companies are near the Yangtze and Yellow rivers, which provide drinking water for tens of millions of people, and accidents could lead to "disastrous consequences."

"Facts have proved that prosperity at the expense of the environment is very superficial and very weak," Zhou Shengxian said at a news conference during the annual meeting of the National People's Congress. "It's only delaying disaster."

China's cities are among the world's smoggiest, and the government says its major rivers are badly polluted, leaving hundreds of millions of people without clean drinking water.

'River thaw not to cause new pollution'

Russian and Chinese experts have concluded the thaw of the frozen Songhua River, where a severe toxic chemical spill happened last year, will not cause pollution again this spring, Zhou said.

The conclusion, made by nearly 1,000 experts after complicated tests and analysis in the past days, said that fish in the river and dairy products made by farms along the river can be eaten safely, said Zhou.

"I am very happy to hear that the conclusion of the supervision tests made by the Russian side is completely the same to ours.

"The final conclusion is that this spring, the Songhua River will not have a second incident of pollution," he said at a news conference during the annual session of China's parliament.

A blast at a PetroChina chemical factory on November 13, 2005, in Northeast China's Jilin Province, spewed at least 100 tonnes of toxic benzene into the river.

It formed an 80 kilometre-long slick, which slowly moved downstream as the river was icing, leaving 4 million people in Harbin, the capital city of Heilongjiang Province, without tap water for days.

The toxic slick reached neighbouring Russia in the middle of December, causing great concern over the safety of drinking water.

Many people have been worried about more pollution problems as the ice of the river begins to melt in warmer weather.

Water tests in Russia revealed the pollution presented no danger to people, Russian officials have been quoted by agencies as saying.

Zhou also revealed that the Chinese Government is making major efforts to avoid similar pollution incidents in the future caused by those chemical factories located along rivers and lakes.