Sandstorm sweeps NW China region
(Xinhua)
Updated: 2006-03-12 21:33
URUMQI -- A rust-colored sandstorm hit over the southwestern part of Xinjiang Uygur Autonomous Region, northwest China, on Sunday, reducing visibility to less than 50 meters in affected areas.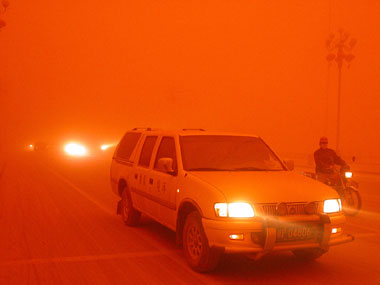 Cars drive slowly with headlights on in a city in northwest China's Xinjiang Uygur Autonomous Region March 12, 2006 amid a sandstorm which reduced the visibility to about 50 meters. [Xinhua]

The content of particulate matter in the air over Artux city reached 16 mg per cubic meter of air at noon time, 222 times the normal standard, according to the environment monitoring station of the Kirgiz Autonomous Prefecture of Kizilsu.

This is the worst and the strangest sandstorm that has swept Artux since 1993, said Yusupjan, deputy head of the station. "It is like going into a flour mill. It is hard to breathe when standing outside as the air is so smoky," the official said.

A yellow sandstorm swept over Kashi city early Sunday morning and the sky turned saffron yellow later. Local residents had to wear masks and vehicles snailed along the street in the heavy smog. The local meteorological station estimated that Kashi's temperature dropped by five to 8 degrees Celsius by 1:00 p.m. on Sunday.

A strong cold front began affecting Xinjiang on Saturday, causing sandstorms and gale force winds in parts of the westernmost region of China.