India, China hopeful of resolving border row
(AFP)
Updated: 2006-03-12 17:27
NEW DELHI - India is optimistic about settling a decades-old border dispute with China, a top official said as the two sides held talks on the issue for a second day.
India's National Security Adviser M.K. Narayanan and Dai Bingguo, China's executive vice foreign minister, met in the southern state of Kerala on the dispute, which led to a brief war in 1962.
"Both sides are optimistic about reaching a decision," Narayanan was quoted as saying by the Press Trust of India, adding that discussions in New Delhi on the first day were "very good".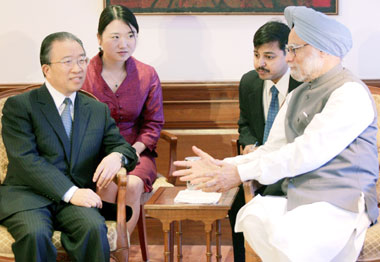 Indian Prime Minister Manmohan Singh (R) speaks to Chinese Deputy Foreign Minister Dai Bingguo (L) during their meeting in New Delhi March 11, 2006. [Reuters]

Dai also reported progress. "We are working together and making progress continuously," he told reporters.

The two governments in June 2003 appointed special representatives to address the border issue. The last round of talks was held in China in September.

Chinese Prime Minister Wen Jiabao said during a visit last year that resolving the border dispute was a top priority after Narayanan and Dai signed an agreement setting the "guiding principles" for a possible agreement.

A formal ceasefire line was never established after the war but the border has remained mostly peaceful.

India says China occupies 38,000 square kilometres (15,200 square miles) of Indian territory in Kashmir while Beijing claims that 90,000 square kilometres of the Indian state of Arunachal Pradesh belongs to it.

The visit by Dai, regarded as a Chinese trouble-shooter on nuclear issues, comes shortly after New Delhi and Washington reached a historic pact paving the way for the United States to provide civilian nuclear technology.

China has reacted cautiously to the deal, saying such nuclear cooperation must conform to the rules of the global non-proliferation regime.

Beijing is believed to be concerned about expanding US influence in South Asia, especially its growing ties with India.

But Prime Minister Manmohan Singh told Dai in a brief meeting in New Delhi Saturday that developing good-neighbourly and friendly relations with China was an important part of India's foreign policy.

During Saturday's talks between Dai and Narayanan, who is one of the key architects of the nuclear deal, India was reported to have given an outline of the agreement.

It still has to be ratified by the US Senate and the 45-member Nuclear Suppliers Group, of which China is a member.