"Supergirl craze" breeds "unisex"
(Xinhua)
Updated: 2006-03-12 10:35
Following 2005's "supergirl craze", the concept of "unisex" has gradually become fashionable. Many young women today believe it is trendy to not wear skirts and not to keep long hair.

How to understand and treat this phenomenon?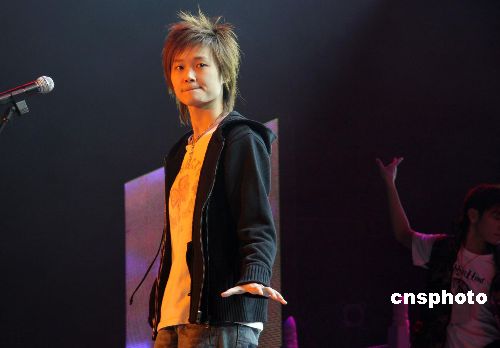 File photo shows Li Yuchun, winner of the "Super Girl" contest last year, sings in Taipei on Feb. 19. [cnsphoto]
Famous writer Xiaobai from Jiangsu regards the emergence of "unisex" as an inevitable result of societal development. Under enormous competitive pressure, women need to give continuously, perhaps even more than men. To suit societal needs, women have no choice but to endlessly change themselves.
Nanjing University Chinese Language and Literature Professor Zhang Guangmang believes that women turning to "unisex" is a trend, but not a good trend. Instead, it is another sign that women are taking the wrong path post liberation. He believes that men and women naturally have different characteristics and should not take the absence of sex differentiation as equality.
Professor Qian Huanqi with Ginling College of Nanjing Normal University believes that the societal developmental trend is towards equality of the sexes, not unisex. Superior men and women have the distinct qualities of their gender as well as the good attributes of the opposite sex.
Dr. Xu Huayu, president of Wuxi's Hafo School for Girls, said that women have feminine beauty and girls should know they are girls.
Jiangsu Writers' Association Vice Chairman Bi Feiyu said women moving towards "unisex" may not quite become another social malaise and was perhaps just another game for females that will naturally fade away with time.
Other experts think that since the "unisex" movement is a trend, it should not last long and is not something to fear. As long as the trend is but a "phase", women can keep their natural softness and attention to details while learning strength and venturous spirits from men. This type of taking other's strength to cover for one's weak points is commendable.