Bush urges Americans to reject protectionism
(chinadaily.com.cn)
Updated: 2006-03-11 09:34
U.S. President George W. Bush urged Americans on Friday to reject rising protectionist sentiment in his country, but he compromised somewhat by pledging to keep the pressure on China to float China's currency and take other steps to reduce a record U.S. trade deficit.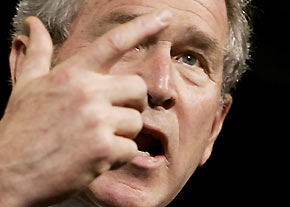 U.S. President George W. Bush makes remarks at the National Newspaper Association Government Affairs Conference in Washington, March 10, 2006. [Reuters]

"I am worried about isolation and protectionism," Bush said in the wake of the collapse of the Dubai ports deal, the Associated Press reported.

"To me it's a lack of confidence in our ability to shape the future and I think it would be wrong economic policy," Bush told a group of U.S. newspaper publishers in Washington D.C.

The widening U.S. trade deficit, which the U.S. Commerce Department said Thursday hit a record $68.5 billion in January, has become a growing political issue in the United States. In January's trade figures the US-China deficit jumped by 9.9 percent, to US$17 billion. The deficit with Canada, America's largest trade partner,increased by 11.1 percent, and the U.S.-India deficit shot up 61.3 percent.

The US Congress is increasing pressure on the Bush administration to toughen its stance on Beijing's trade practices in the lead up to President Hu Jintao's Washington visit late next month.

The uproar over the failed bid by Dubai Ports World to manage six U.S. ports recalled a bid by China's CNOOC (China National Offshore Oil Corporation) Ltd. earlier last year to buy American oil company Unocal. CNOOC abandoned the plan after it found the its acquisition plan caused an unexpectgede over-heated controversy in the United States.

Bush told American editors that he has constantly urged the Chinese to improve the trade climate by offering a "level playing field" for U.S. manufacturers. "Intellectual property rights need to be protected. Your currency needs to be floated. Treat our people fairly," Bush said.

Bush's comments came as top officials in his administration, including Treasury Secretary John Snow, have ratcheted up their rhetoric over China's yuan currency.

According to the Associated Press report, Bush discussed the complexity of the U.S. relationship with China -- not only economically but on the national security front as well -- when he was asked at the newspaper publishers' forum whether Iran, North Korea or China represented the greatest threat.