Guangdong: no further bird flu cases detected
(AFP)
Updated: 2006-03-07 19:19
The governor of southern China's bustling economic province of Guangdong said the death of a man from bird flu there last week was an isolated incident.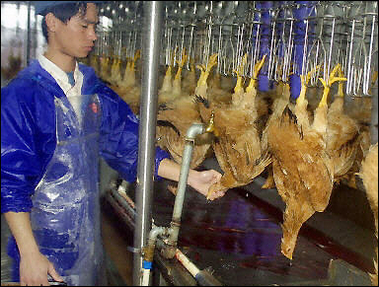 A worker inspects chickens at a poultry factory in southern China's Guangdong province. Guangdong governor Huang Huahua said the death of a man from bird flu there last week was an isolated incident.[AFP]
None of the 122 people who had been in contact with the 32-year-old victim who visited poultry markets had shown any abnormal health conditions, governor Huang Huahua told reporters in Beijing.
"We found that not one person in the markets visited by the deceased has been infected with bird flu," Huang said on the sidelines of the annual session of the National People's Congress, China's parliament, in Beijing.
"Guangdong province attaches great attention to this (bird flu) and has adopted effective measures."
The health ministry on Sunday announced the man, surnamed Lao, died of bird flu, on Thursday last week. He was the ninth bird flu death in China and the first in Guangdong.
Huang said the province had adopted many measures to control the spread of bird flu since last year, including mass vaccination of poultry, and the results were "very good."
Huang also sought to reassure people in Hong Kong, which buys half of the poultry it consumes from neighboring Guangdong, that the poultry shipped across the border was safe. They come from designated farms and are inspected.
"Hong Kong and Macau compatriots, please be assured, 100 percent assured, we will definitely be responsible towards Hong Kong and Macau residents," Huang said.
"The inspection measures are very good. Once we discover a situation, we will deal with it right away and strictly guard against any problems."
Hong Kong has suspended the supply of live poultry, day-old chicks and pet birds from Guangdong due to the death, pending confirmation that there are no other cases of human infection and that there is no outbreak in poultry farms.