Al-Jazeera airs tape of 3 hostages in Iraq
(AP)
Updated: 2006-03-07 19:05
Arab television on Monday broadcast a brief and silent videotape showing three of four Christian peace activists abducted in Iraq and said the men asked their governments to work for their release.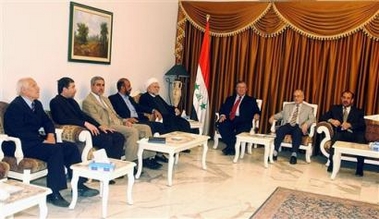 Iraqi President Jalal Talabani, third right, during a meeting with members of the United Iraqi Alliance (UIA), a coalition of Shiite political and religious parties, in Baghdad, Iraq, Monday, March 6, 2006. Iraq's president said on Monday he would call the country's new parliament into session for the first time on March 12, starting the clock on a 60-day period during which the legislature must elect a new head of state and sign off on a prime minister and Cabinet. [AP]


It was not immediately clear who among the four hostages was not in the video, which carried a Feb. 28 date superimposed on the tape aired on al-Jazeera TV.

Four workers ¡ª two Canadians, an American and a Briton ¡ª from the Chicago-based Christian Peacemaker Teams disappeared Nov. 26. The previously unknown Swords of Righteous Bridges claimed responsibility for kidnapping them.

Their abductors have threatened in a previous videotape to kill them unless all Iraqi prisoners are released from Iraqi and U.S. prisons.

Earlier Tuesday, two car bombs exploded almost simultaneously at separate sites in the mostly Shiite city of Hillah, wounding at least three people, police said.

The blasts were detonated by remote control and were about five minutes apart, said police Capt. Muthana Khalid.

The first went off on a road on the northern side of the city, hurting no one, Khalid said.

Five minutes later, the second car bomb exploded at a bustling market, injuring at least three people, Khalid said.

Hillah, 60 miles south of Baghdad, has suffered repeated attacks. It is also the site of the single deadliest attack in the two-year insurgency, a suicide car bombing outside a medical clinic on Feb. 28, 2005 that killed 110 people.

Also Tuesday, police said four Iraqi officers were killed in two separate attacks on police patrols in Baqouba and Beiji, north of Baghdad. The assailants were not identified.

Meanwhile, Iraq's president failed Monday in a bid to order parliament into session by March 12, further delaying formation of a government and raising questions whether the political process can withstand the unrelenting violence or disintegrate into civil war.

The deadlock came as snipers assassinated Maj. Gen. Mibder Hatim al-Dulaimi, the Sunni Arab in charge of Iraqi forces protecting the capital. A torrent of bombings and shootings killed 25 more Iraqis on Monday, ending a relative lull in violence. Officials also found four bodies.

At the heart of the dispute is a controversy over the second-term candidacy of the Shiite prime minister, Ibrahim al-Jaafari, whose most powerful supporter is the anti-American cleric Muqtada al-Sadr.

The Sunni Arab minority blames al-Jaafari for failing to control the Shiite militiamen who attacked Sunni mosques and clerics after the Feb. 22 shrine bombing in Samarra. Kurds are angry because they believe al-Jaafari is holding up resolution of their claims to control the oil-rich city of Kirkuk.

In a bid to force a showdown in the dispute, President Jalal Talabani, a Kurd, announced he would order parliament to convene Sunday for the first time since the elections in December and the ratification of the results on Feb. 12.

Such a meeting would have started a 60-day countdown for the legislators to elect a president, approve al-Jaafari's nomination as prime minister and sign off on his Cabinet.

Talabani was mistakenly counting on the signature of Vice President Adil Abdul-Mahdi, a Shiite, who lost his own bid for the prime minister's nomination by one vote to al-Jaafari. Talabani had in hand a power of attorney from the other vice president, Ghazi al-Yawer, a Sunni, who was out of the country.