FM urges Japanese PM to stop shrine visit
(chinadaily.com.cn/Agencies)
Updated: 2006-03-07 16:35
China again urged Japanese Prime Minister Junichiro Koizumi and other top Cabinet members to stop visit to the Yasukuni Shrine, an issue at the center of tensions between the two countries.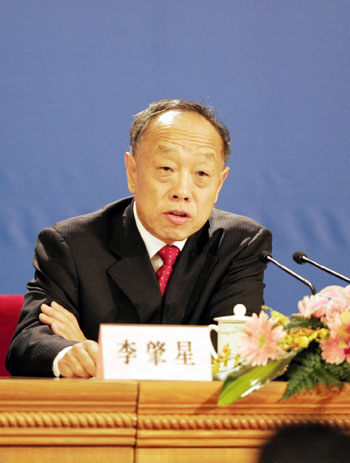 Foreign Minister Li Zhaoxing holds a press conference in the Great Hall of the People on the sidelines of the ongoing session of the National People's Congress in Beijing March 7, 2006. [Xinhua]
The Japanese leaders should stop actions hurting feelings of the Chinese people and people in other countries victimized by Japan's wartime aggression, said the Chinese Foreign Minister Li Zhaoxing at a press conference on the sidelines of the National People's Conference in Beijing on Tuesday.
"It is a serious issue. The Chinese people can never accept Japanese leader worship World War II Class-A war criminals," Li added.
Moreover, Li again called the Japanese Government to properly deal with historical issues and abide by the principles of the three political documents signed by the two countries, including the Sino-Japanese Joint Statement.
"We hope the Japanese government keep its promise on the Taiwan question through practical actions," Li added, vowing that China will continue to develop Sino-Japanese friendly co-operative relationship on the principle of reviewing history and facing the future.
East China Sea gas dispute
Li told reporters that China and Japan concluded on Tuesday the the fourth round of consultation on the East China Sea gas issue.
The foreign minister discribed the two-day talks as "pragmatic" and "constructive". The two sides agree to convene new talks as soon as possible, Li added.

Hu Zhengyao, director of the Asian Department of Chinese Foreign Ministry, and Kenichiro Sasae, head of the Asian and Oceanian Affairs Bureau of Japanese Foreign Ministry, participated in the consultation as head of respective Chinese and Japanese delegation.
Since October 2004, China and Japan have convened three rounds of consultations on the East China Sea issue.
Defense Budget
During the press conference, the Chinese FM also tried to downplay the increase of China's defense budget, saying the country spent far less than the United States.
Li pointed out that China's military spending, in per capita terms, was just 1/77 of the United States.
China at the weekend unveiled a 14.7 percent jump in 2006 defence spending compared to the previous year, or a total of 283.8 billion yuan (US$35.3 billion).
"The military expenditure of China, though increased somewhat, is way less than the military expenditure of the country where you come from," the Chinese Foreign Minister told a US reporter at a news briefing.

"China's national defence policy is transparent, it is completely defensive in nature," he told the news conference.