Curfew in Pakistani town after 120 militants die
(AFP)
Updated: 2006-03-07 13:57
Pakistani authorities clamped a curfew on a remote town and negotiated with tribesmen to try to end three days of clashes that have left more than 120 pro-Taliban rebels dead, officials said.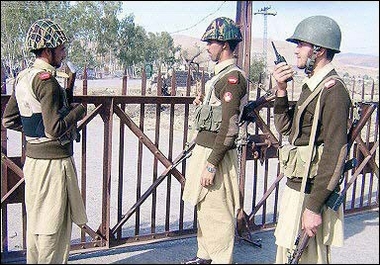 Pakistani paramilitary soldiers stand alert at a check post in Miranshah. Pakistani authorities clamped a curfew on a remote town and negotiated with tribesmen to try to end three days of clashes that have left more than 120 pro-Taliban rebels dead. [AFP]


Gunship helicopters again pounded insurgents as sporadic fighting continued in Miranshah, the battle-scarred main town in the North Waziristan tribal region bordering Afghanistan, the army said.

Troops seized control of the main bazaar and key government buildings while residents said more than 1,000 terrified families clutching belongings had fled following the fierce rocket and artillery clashes.

They were the most violent attacks in the mountainous tribal belt since the fundamentalist Taliban regime in Afghanistan fell in late 2001 and many fighters fled across the border.

"According to latest information, the death toll in March 4 (Saturday) fighting has gone up to more than 100. This is in addition to the 19 killed this morning in Miranshah," top military spokesman Major General Shaukat Sultan told AFP.

Sultan earlier said 19 militants, including some foreigners, died on Monday when troops took control of a telephone exchange in Miranshah, while a government official's daughter died in a rocket attack.

Five paramilitary soldiers were also killed on Saturday, he said.

"We are establishing the government's writ," he said.

The fighting erupted on Saturday when hundreds of tribal rebels occupied key buildings in Miranshah in revenge for an army raid three days earlier that smashed an Al-Qaeda training camp. That raid was said to have killed 40 militants, including foreigners.

Qazi Ijaz, spokesman for the governor of neighbouring North West Frontier Province, said authorities had imposed a curfew in the city. He also confirmed that more than 100 rebels had died.

Tribesmen in communication with the militants asked officials in Miranshah on Monday for a ceasefire and for peace talks, local sources told AFP.

The officials agreed to hold a meeting with tribesmen on condition that the insurgents "must stop firing if the discussions are to go ahead," one local official said.

Early Monday US-built Cobra gunships opened fire on a hamlet near Miranshah after rockets were fired at army positions, a local official said.

Officials said two local Islamic clerics were leading the uprising -- Maulvi Abdul Khaleq, who called for "holy war" on the army after Wednesday's raid on the Al-Qaeda camp in Saidgai village just outside Miranshah, and Maulvi Sadiq Noor.

"If we kill or capture these two miscreants we know the resistance will collapse like a pack of cards," a senior army official told AFP.

The town remained without electricity but some telephone lines had been restored, officials and residents said. The telephone exchange, a bank, a hospital, two hotels and five markets have been badly damaged.

At checkpoints around the town, soldiers frisked men before allowing them and women and children to leave.

The clashes erupted on the same day as US President George W. Bush visited Pakistan, where he told President Pervez Musharraf that more work was needed to defeat Al-Qaeda.

Pakistan launched military operations in October 2003 to tackle Al-Qaeda and Taliban militants who sneaked across from Afghanistan after a US-led military operation toppled the Taliban. They have also battled their local supporters.