Israel airstrike kills 5; Hamas challenges Abbas
(Reuters)
Updated: 2006-03-07 09:56
An Israeli air strike killed two Islamic Jihad militants and three other people in the Gaza Strip on Monday, including an eight-year-old boy, Palestinian medics and witnesses said.
The Israeli army confirmed the strike on a car carrying the two militants, which came on the eve of formal campaigning for Israel's elections on March 28 and after interim Prime Minister Ehud Olmert vowed to use an "iron fist" against militants.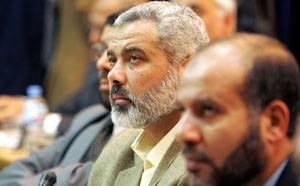 Hamas leader and Palestinian Prime Minister-designate Ismail Haniyeh (L) attends a Palestinian Legislative Council (PLC) meeting with lawmakers in Ramallah via video conference, as part of their first session as newly elected lawmakers, at the PLC building in Gaza March 6, 2006. [Reuters]

"The war on terror will be conducted in full strength as it is being conducted, in every corner, in every place in the Gaza Strip and everywhere else," Olmert said in an recorded interview aired on Monday on a talk show on Israel's Channel 2 television.

Islamic militant group Hamas, which is forming a government after winning Palestinian parliamentary elections in January, called the air strike a "massacre". President Mahmoud Abbas said it was a "dangerous escalation" against the Palestinian people.

The unified condemnation was in sharp contrast to the first working session of the new Palestinian parliament, where Hamas legislators challenged Abbas by revoking all decisions made by the previous legislature at its final session last month.

That included legislation giving Abbas wider powers to appoint judges.

Hamas trounced Abbas's once-dominant Fatah movement in parliamentary elections on January 25. A senior Abbas aide accused Hamas of attempting to oust the Palestinian president.

"We see this as a coup attempt to change the regime and they have to seriously reconsider their decisions," said the aide, Tayeb Abdel-Rahim.

In the final session of the previous parliament on February 13, majority Fatah members pushed through an amendment to an existing law, giving Abbas power to appoint judges to a constitutional court without seeking legislative approval.

The judges could have been asked to decide whether laws approved by the new parliament were constitutional. Hamas said the move effectively gave Abbas veto power over new laws.

SPIKE IN VIOLENCE

The two Islamic Jihad militants were killed when a missile struck their car in northern Gaza, from where militants have regularly fired makeshift rockets into Israel.

Witnesses said the eight-year-old boy was killed while standing close to the car. Two others, teenaged boys aged 14 and 15, also died, a hospital official said.

An Israeli military source said one of the militants killed was involved in rocket attacks against Israel.

A Hamas spokesman condemned the strike.

"If the international community remains quiet the situation will explode," Sami Abu Zuhri said.

A spike in violence has increased pressure on Olmert to show he is as ready to take tough military action as was Ariel Sharon, who remains comatose after a stroke two months ago that propelled Olmert to the front of the election campaign.

Abbas, a moderate who helped broker a ceasefire with Israel a year ago, has urged Hamas to put together a government that will pursue a peace agenda. Hamas is officially committed to Israel's destruction, although has largely adhered to the truce.

Earlier on Monday, Fatah members stormed out of parliament in Ramallah in protest at the Hamas action.

"We voted to cancel all the resolutions that were taken in the February 13 session because the entire session was unconstitutional," Hamas lawmaker Mahmoud Ramahi told Reuters.

Israeli officials see the Hamas parliamentary victory as reinforcing a need for unilateral action and say it dims hopes for a U.S.-backed peace "road map" which calls for both sides to take steps to reach a negotiated settlement.

On Sunday, Israeli officials said Olmert planned a unilateral evacuation of some settlements in the occupied West Bank if he wins the March 28 elections. Israel quit all Jewish enclaves in the Gaza Strip in September last year.