Nation reminds youths to learn from Lei Feng

(Xinhua)
Updated: 2006-03-04 09:45
First visitors to China shouldn't be surprised to encounter random acts of kindness on Sunday.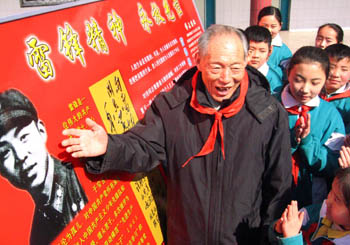 A senior man tells the story of Lei Feng, a well-known soldier who had become China's most famous symbol of sacrifice for others, to pupils in a school in Jinan, capital of eastern China's Shandong Province March 3, 2006. Lei Feng was born in 1940 in central China's Hunan Province. and died on August 15, 1962, in an accident at the age of 22. [Xinhua]
On every March 5 for the past 43 years, millions of young people across the country will do something good for someone else, following the example set by model soldier Lei Feng.
Lei, who was just 22 when he was killed in an accident in 1962, inspired the nation after former leader Mao Zedong called on people to "Learn from comrade Lei Feng."
Born into a peasant family in Wangcheng in central China's Hunan Province, Lei was orphaned before he turned 7. At 20, he joined the People's Liberation Army and spent all his spare time and money helping the needy.
Lei died after being hit on the head by a wooden pole that was accidentally knocked over by a fellow soldier.
By the early 1970s Lei was worshipped as a hero, and millions of young people emulated his acts of generosity every year.
Today his good deeds have lost some luster as China's modern society has become more self-centered, some authorities complain.
But Shi Yonggang, one of the editors of the new book "Lei Feng: 1940-1962," which will be released on Sunday, wants to help today's students understand the life of the model soldier.
This latest edition of the Lei Feng story is one of more than 1,000 books that have recorded his good deeds. But this one is unusual in that it shows an earthier side to the legend.
"It's a pity that the image of Lei Feng depicted in those books is hard for people, especially young people, to understand and accept nowadays," said Shi.
Shi's book features more than 300 never-published photographs of Lei showing him as a fun-loving young man.
"Lei Feng did almost all the fashionable things of his day," Shi said.
When workers became the most respected segment of society in the 1950s, Lei became an iron worker in an Anshan factory in northeast China's Liaoning Province. He then upgraded his technical skills to earn a rarely-issued driver's license and began a career as a truck driver.
Shi's two favorite pictures are of Lei riding a borrowed motorcycle on Tian'anmen Square in downtown Beijing, while the other shows Lei holding a trendy satchel as he stands by the Wuhan Yangtze River Bridge in central China's Hubei Province.
The photographs also show that Lei wore fashionable sweaters, a leather jacket and wristwatch, all considered luxury items of the day.
But Lei will be most remembered for his selfless spirit.
Zhang Jun, one of the seven photographers whose pictures are featured in the book, first met Lei in September 1960 when he was assigned to write an article about the model soldier who had donated 200 yuan to disaster relief.
"Lei was short, lovely and shy and didn't talk very much. He was also a model economizer who often sewed and mended his socks time and again," Zhang recalled.