Bush visits Pakistan amid protests
(AP)
Updated: 2006-03-04 08:50
Traveling under heavy security, President Bush showed solidarity with Pakistan in the global war on terror Friday as anti-American protests flared across this Islamic nation. The visit probably put Bush closer than he's ever been to Osama bin Laden.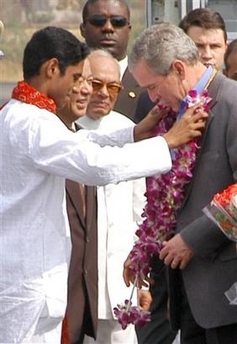 An unidentified student garlands US President George W. Bush at the airport in Hyderabad, India, Friday, March 3, 2006. Bush said Friday that Americans should not respond to India's exploding economy by closing itself off to global trade, applauding warming U.S.-India relations as he ended his three-day visit. [AP]
Air Force One flew through the night without lights to conceal the plane's profile as it delivered Bush and his wife, Laura, from India. Two helicopters and a motorcade waited for the president at the airport, but it was impossible to tell whether he used a car or a chopper to get to the heavily fortified U.S. Embassy compound, where he was spending the night.
Anti-American sentiment runs deep in this Islamic nation and the threat of terrorist attacks is ever present. A day before Bush's visit, an American diplomat was killed in a suicide car-bombing at a U.S. consulate in the southern city of Karachi, a hotbed of Islamic militancy.
Bush is to spend all day Saturday in Islamabad, conferring with President Gen. Pervez Musharraf, meeting with business leaders, attending a state dinner and even watching a cricket match ¡ª a passion of Pakistanis.
Hoping to boost the U.S. image among Muslims, Bush planned to call attention to American contributions to Pakistan after a devastating earthquake in October.
Bush said he would talk with Musharraf about Pakistan's "vital cooperation in the war on terror and our efforts to foster economic and political development so we can reduce the appeal of radical Islam."
In a farewell speech in New Delhi, Bush ran into trouble when he praised Pakistan as "a force for freedom and moderation in the Arab world." The White House hastened to correct Bush's reference to Pakistan as an Arab nation, and said he meant to say Muslim.
Bush's trip brought renewed attention on the frustrating manhunt for bin Laden, the al-Qaida leader blamed for the Sept. 11, 2001, attacks on America. Bin Laden and his followers are believed to be in hiding in the porous border area of Pakistan and Afghanistan.
Earlier this week, Bush said it was simply a matter of when ¡ª not if ¡ª bin Laden was brought to justice.
There were anti-U.S. protests in cities and towns across Pakistan, with crowds burning American flags and chanting "Death to Bush." About 1,000 stone-throwing people tried to march on the U.S. consulate in Karachi; police used tear gas and batons to stop them.
While many people here view the United States with mistrust, Pakistan has been an important U.S. ally in the Muslim world.
The Pakistani government says it has arrested about 700 al-Qaida suspects in the past four years, including Khalid Shaikh Mohammed, the mastermind of the Sept. 11 attacks. Even so, key terror leaders are still thought to be at large within its borders.
Musharraf seized power seven years ago in a bloodless coup and has reneged on a promise to relinquish his military post. But Musharraf endeared himself to Bush after the 9/11 attacks when he switched Pakistan's allegiance from the Taliban regime in Afghanistan and supported Washington in the U.S.-led war against its rulers.
Bush has promised to talk with Musharraf about the need for more democratic reforms. In his speech in New Delhi, Bush extolled India's embrace of democracy and said it was the path all nations should follow.
"If justice is the goal, then democracy is the way," Bush said.
Pakistan has been roiled by anti-Western protests against Prophet Muhammad cartoons, which have left at least five people dead. Bush has called on governments to stop violent demonstrations, and at the same time has urged the media to use restraint with material that might be considered offensive.
Pakistanis also were enraged by a U.S. missile strike in January targeting al-Qaida's No. 2 leader, Ayman al-Zawahri, who was believed to be attending a dinner party at a village in a northwestern region near the Afghan border. Al-Zawahri apparently wasn't there, and the missile killed 13 residents, including women and children.
Bush was expected to face demands here for equal treatment with India, which signed a landmark nuclear deal with the United States this week providing nuclear reactors, technology and other material to New Delhi in exchange for its acceptance of international safeguards. U.S. officials said Pakistan will not get the same reward, considering that just two years ago Pakistan's leading nuclear scientist, A.Q. Khan, was exposed as the chief of a lucrative black market in weapons technology that had supplied Iran, Libya and North Korea. The government denied any knowledge of his proliferation activities.