China warns of bird flu risk as spring arrives
(Reuters)
Updated: 2006-03-03 19:41
Chinese Vice-Premier Hui Liangyu has warned that China could see more human cases of bird flu during the spring season when migratory birds return, increasing the risk of spreading the virus.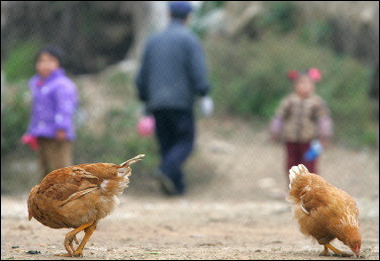 Chickens roam free through China's Anhui province in November 2005. A leading Chinese politician warned that there is still a risk of more human bird flu cases this spring, urging continued vigilance against the deadly disease. [AFP]


China has reported more than 30 outbreaks of the H5N1 strain of bird flu across the country in the past year and has had 14 human cases -- eight of them fatal.

"In our country during the spring season there still exists a possibility of bird flu prevalence and outbreaks and there still exists a danger there could be more human cases," Hui told a cabinet conference.

"There are some places where prevention and control efforts have weak links," he said, in comments carried in China's People's Daily on Friday.

He urged officials in all areas to implement the central government's guidelines for preventing the disease, which scientists fear could mutate from a form that mainly affects birds to one that can pass easily between humans, sparking a pandemic.

In the past few months, bird flu has spread from Asia to more than 30 countries in Europe, Africa and the Middle East.

Earlier this week, Agriculture Minister Du Qinglin made a similar warning of a possible springtime resurgence of the disease, saying "the possibility of a massive bird flu outbreak could not be ruled out".

China also published plans to cope with sudden medical emergencies and President Hu Jintao and Premier Wen Jiabao called on regional health departments to step up community health work.