China lawmakers push for gay marriage
(Reuters)
Updated: 2006-03-03 19:05
Rural development and currency reform are the hot issues at China's annual session of parliament opening this week, but some delegates have quirkier matters on their minds.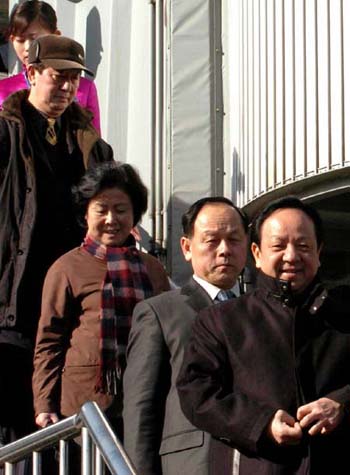 Members of the Chinese People's Political Consultative Conference, China's top advisory body, arrive at the Capital International Airport in Beijing March 1, 2006. The advisors are here to attend the annual CPPCC session scheduled to convene Friday. [Xinhua]

Li Yinhe, a sociologist and member of the advisory body to parliament, plans to submit a proposal on same-sex marriage, aiming to end discrimination against homosexuality.
Li has submitted the proposal twice before, but it failed to gain the minimum support of 30 fellow members in the 2,000 group, the Xinhua news agency reported on Friday.
Li admitted that the "cultural environment in the country is not yet prepared for such a proposal".
But she argued that allowing gay marriage would promote stable relationships and safe sex that could help curb the spread of HIV/AIDS.
Chen Guiyun, a deputy to the parliament from the southwestern province of Sichuan, is calling for legislation to ban smoking in public places, shocked by the fact that nearly half of China's 1.3 billion people suffer from passive smoking, Xinhua said.
Chinese are the world's largest consumer of cigarettes, with about 350 million smokers, and tobacco kills 1.2 million people in the country a year.