Bush to proceed to Pakistan, shrugs off deadly bomb blasts
(AFP)
Updated: 2006-03-03 13:53
US President George W. Bush said he would visit Pakistan despite a bomb blast outside the US consulate in the southern city of Karachi which killed at least one American.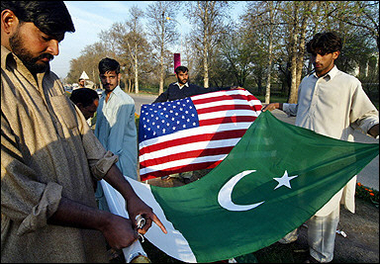 Pakistani workers hang US and Pakistani flags in preparation for the visit of US President George W. Bush in Islamabad. Bush said he would visit Pakistan despite a bomb blast outside the US consulate in the southern city of Karachi which killed at least one American. [AFP]


"Terrorists and killers are not going to prevent me from going to Pakistan. My trip to Pakistan is an important trip," Bush told reporters after talks with Indian Prime Minister Manmohan Singh.

He said one US diplomat had been killed in the blast.

A Pakistani official said the blast was apparently timed to coincide with Bush's visit.

"The bombing that took place prior to my trip is an indication that the war on terror goes on and that free nations must come together to fight terrorism," said Bush, scheduled to leave for Islamabad at the weekend.

The explosion ripped through the car park of the Marriott Hotel next to the US consulate in Karachi's highest security zone, killing the diplomat and at least four others, police and officials said.

The suicide car bomber reportedly rammed into a diplomatic vehicle outside the consulate.

Bush said he would hold talks with Pakistan's President Pervez Musharraf on the need to step up the US-led "war on terror," during his first trip to the country.

He said Musharraf "has a direct stake in this fight" noting that "four times terrorists tried to kill him."

Asked to characterize the threat level for Bush's trip to Islamabad, his National Security Advisor Steve Hadley said, "Pakistan is both an ally in the war on terror and, in some sense, a site where the war is being carried about."

"So there is obviously risks," he said.

While security officials are comfortable that the necessary precautions are in place for Bush's visit, "this is not a risk-free undertaking," Hadley said.

"The president has made it very clear, though, in the same way that Musharraf, who is also under risk, has not been deterred from waging the war on terror by the attacks and the terrorists, he and the United States cannot be deterred by the attacks of the terrorists from showing our support to a good ally," he said.

The US leader was expected to nudge Musharraf to commit more resources to capturing Al-Qaeda kingpin Osama bin Laden and his deputy Ayman al-Zawahiri.

Zawahiri reportedly escaped missile strikes by US drones in a tribal village in Pakistan in January.

Hadley said more steps could be taken to "further integrate" the cooperation of the United States and Pakistan in the hunt for bin Laden and Zawahiri, whose arrest he added was also a priority for Afghanistan.

Bush also urged India and Pakistan "to continue making progress on all issues including Kashmir."

New Delhi has been pressing Islamabad to halt rebel infiltration from Pakistan and areas under its control as part of an ongoing peace drive aimed at ending their feud over divided Kashmir.

India and Pakistan both claim the scenic Himalayan region and the issue has sparked off two of the three wars between the nuclear powers.

"India and Pakistan have an opportunity to work towards lasting peace," Bush said.