State of emergency lifted in Philippines
(AP)
Updated: 2006-03-03 13:39
President Gloria Macapagal Arroyo lifted a week-old state of emergency on Friday, after her security advisers assured her that the threat of a coup had eased.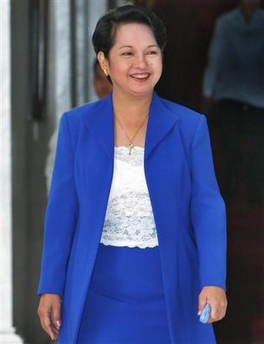 Philippine President Gloria Macapagal Arroyo smiles as she walks towards the briefing room to make her announcement Friday, March 3, 2006 at the Malacanang palace in Manila. Arroyo lifted a week-old state of emergency on Friday, after her security advisers assured her that the threat of a coup has eased. [AP]

"I am happy to report that we have dismantled the sabotage efforts," Arroyo said in a nationally televised address. "I strongly believe that law and order has returned."

Arroyo declared the emergency last Friday to quash a coup plot allegedly involving disgruntled soldiers, communist rebels and civilian backers. On Thursday, the defense, justice and police chiefs said they would recommend lifting the decree because the situation was normalizing.

"It is important for our political opponents and the opportunists to stop this nuisance to our economy and embarrassment to the Philippines caused by these useless charades," Arroyo said.

"I will never tolerate this kind of adventurism. No matter how many times, I will act with steadfastness and determination each time our enemies undermine our nation and the economy."

Opposition and civil activists have warned that political freedoms were being eroded.

Authorities have filed criminal charges against at least 51 opposition members, military personnel and others for trying to overthrow the president. They include five left-wing lawmakers who sought refugee at the House of Representatives and refused to be interviewed by police.

"Many subversives and some police and soldiers have been arrested," Arroyo said. "Our justice system will deal with them."

Civil libertarians, lawyers, businessmen and media groups have expressed concerns over a string of warrantless arrests, a ban on rallies and a raid on a critical newspaper.

Left-wing Rep. Teodoro Casino, one of six lawmakers charged with rebellion, called the end of Arroyo's decree a "cosmetic" move amid all the flak generated by her emergency proclamation. He and four of the other legislators have been holed up in the House of Representatives building to avoid arrest.

"So what? We still cannot go out of Congress, we still have a lousy president, and the military and police are still after 'the enemies of the state,'" he said. "She lifted it to escape the snowballing protest against the proclamation. It's cosmetic, but in a way it's a victory, because she was forced to lift it."

Four legal challenges to Arroyo's decree had been filed with the Supreme Court, which had set oral arguments for next Tuesday. Casino said those actions are now moot and academic but vowed protests will continue against what he called continuing political repression.

Arroyo said she had been forced to declare the emergency because "there was a clear and present danger to the republic" as it marked the 20th anniversary of the "people power" revolt that ousted dictator Ferdinand Marcos in 1986.

"One week ago, malicious destabilizers and wayward police and soldiers joined forces to exploit the emotional celebrations," Arroyo said. "They had no other goals but to sabotage our constitution and to destroy the legal government of the Philippines."

The marine commander was relieved of duties Sunday, sparking a standoff at marine headquarters when his backers called on citizens to defy a ban on rallies and gather at marine headquarters to protect officers "from aggression."

Arroyo said she has ordered the defense secretary to review the events with troops to determine their sentiments and listen to their grievances and needs and push ahead with reforms in the armed forces toward modernization.