Man faces Belgian match-fixing charges
(Reuters)
Updated: 2006-03-03 09:20
BRUSSELS, March 2 (Reuters) - Belgian police intend to charge a Chinese businessman who they believe is the key figure in their match-fixing investigation, a spokeswoman for the federal prosecutor said on Thursday.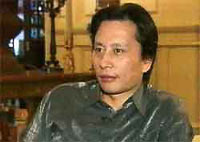 "It is not a case of if but when Zheyun Ye is charged and we will be issuing an international arrest warrant for his arrest," Lieve Pellens told Reuters.
Ye was arrested by police as part of their investigation in November, but was later released without charge.
"Although he is the key figure in our investigation, he didn't work alone," Pellens said.
Belgium has no extradition treaty with China, but the Belgian authorities are working hard at reaching a deal in relation to this case, Pellens said. It is believed the 40-year-old businessman has returned to his home country.
Belgium has also sent letters to Britain and Finland seeking permission to take their investigation to those countries, Pellens confirmed.
"In the UK, the betting exchange Betfair have told us they are willing to help us with whatever information we require and details on those who were involved in the betting," she said.
"Ye also had or still has connections in Finland with a football club there."
The Chinese businessman owned a share in Finnish club FC Alliansi.
FIVE CLUBS
Pellens confirmed that five Belgian first division clubs are currently under investigation, but would only reveal that Lierse, La Louviere and Sint Truiden were three of the clubs involved.
"The net is a lot bigger and the number of individuals involved is greater than that," Pellens said.