China's spitting image to be overturned
(AP)
Updated: 2006-03-03 09:19
Hosting the Olympics means doing a lot more than building a few stadiums, as Beijing is finding out. On Wednesday the Chinese authorities launched a campaign to clean up the way people in the city behave. One of the biggest challenges is to ban public spitting.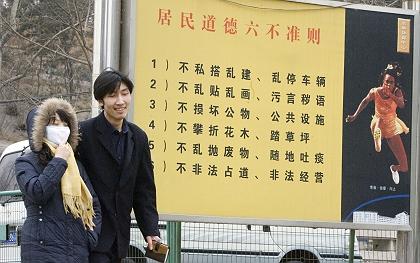 This billboard tells residents what not to do in China in the run-up to the 2008 Olympics: no illegal construction and parking, grafitti, damage of public property, damage to greenery, littering and spitting or illegal street vending. [AP]


In preparation for the 2008 Summer Olympics in Beijing, the Chinese government said Wednesday it would introduce a new code of conduct for its citizens: no slurping of soup, no trying to push to the front of lines and, most of all, absolutely no spitting.

Keen to present its best face to the world during the prestigious sporting event, the government in Beijing has declared war on expectorating in public in a county where phlegm is as ubiquitous on the ground as dog poop in some European cities.

Millions of brochures are being sent out to persuade individuals that spitting is unhygienic, paper sanitary bags with the Chinese symbol for "mucus" are being distributed on public transport for people to spit into and anyone found spitting onto the sidewalk will have to either clean up the mess or cough up an on-the-spot fine of 50 yuan, the equivalent of about £¿.

The issue of spitting in public was first tackled by the Chinese government in a 2003 awareness campaign aimed at curbing the spread of SARS. But it has also become one of the issues that divide the increasingly wealthy urban Chinese, who often regard spitting as lower class, from the poor workers in the countryside.

But banning spitting is no easy feat. Beijing's dusty climate and high levels of pollution mean that coughing up is often the only way to clear your throat.

Whether the Chinese government can actually change people's behavior from above remains doubtful: After all Germany's campaign to get people smiling in time for this summer's football World Cup, has been going for months now. But as yet there is no sign that dour Berliners are looking any more jovial.