Caofeidian: A shining star in North China
By Jessie Tao (chinadaily.com.cn)
Updated: 2006-03-01 16:05
The two-day web promotion campaign of Caofeidian Industrial Construction Project was recently launched on February 27, in Tangshan, a scenic city of North China's Hebei Province.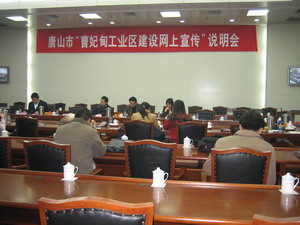 A meeting is held to give instructions on the web promotion campaign of Caofeidian Industrial Construction Project in Tangshan on February 27, 2006. (chinadaily.com.cn)
15 web portals from across the country, under the supervision of the Information Office of State Council, were presented a beautiful, open and advancing city of Tangshan with hospitable and optimistic people during the first day of the event.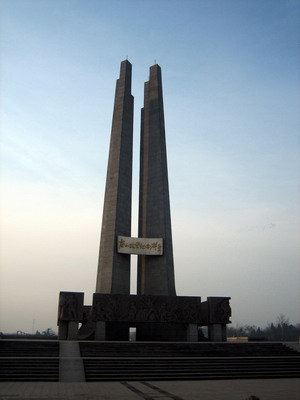 The Anti-seismic Monument in the morning sunshine in the city center of Tangshan, north China's Hebei Province. (chinadaily.com.cn)
And in the second day, a trip was made to the brand-new Caofeidian Island, where locates the Caofeidian Industrial Zone.
It takes only a two-hour drive from the city center of Tangshan to the Caofeidian Island, a small but renowned sand island in the Bohai Bay, to the south of Tangshan City.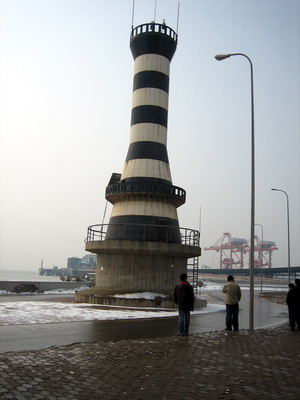 The light house on Caofeidian Island, the only equipment found on the island when people set out to develop this area. (chinadaily.com.cn)
Caofeidian, named after a palace for a concubine of Emperor Tang Taizong of the Tang Dynasty (618-907), was once a wild and untouched sand island. But due to its perfect advantages for port basin construction, the Tangshan government began to plan for the construction of the Caofeidian Basin in as early as 1992.
At the end of 2004, the project was ratified by the State Council.
After more than a decade of construction, great changes have taken place in this island, with construction sites everywhere, machines roaring, and roads and bridges extending in all directions. An era of development has come to the island.   
Superb natural conditions
Located along the western shore of the Bohai Bay, Caofeidian boasts superb conditions for the construction and development of large-scale deep-water ports and port industries.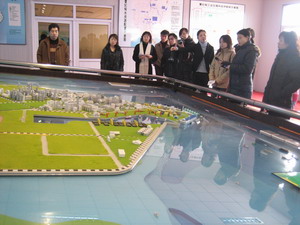 An interpreter is showing the construction model of Caofeidian Indtustrial Construction Project to the reporters. (chinadaily.com.cn)
According to geological survey, 500 meters offshore, the water depth could reach 25 meters, while the trough in front of the island, the lowest point of the Bohai Sea, could be as deep as 36 meters, allowing for the construction of a 300,000-ton terminal without the need to dredge a channel.
Free of silting and freezing, and enjoying 150 square kilometers of tidal flats in the rear, Caofeidian has become the last great place for building a large deep-water terminal within the Bohai Gulf.
Besides, it also enjoys an equally fine geographical position: 70 kilometers from Tianjin Port in the west, 60 kilometers from Jingtang Port and 170 kilometers from Qinhuangdao Port in the east, 220 kilometers from Beijing in the north, and 80 kilometers from Tangshan City with its rich transport networks.  
Overall planning
Supported by the domestic and foreign resources market and relying on its advantages in industry, technology, and resources, the development of Caofeidian will be centered on four main areas -- large terminals, steel plants, petrochemical projects, and power works, with a total investment of 15-20 billion yuan (US$18,149,039).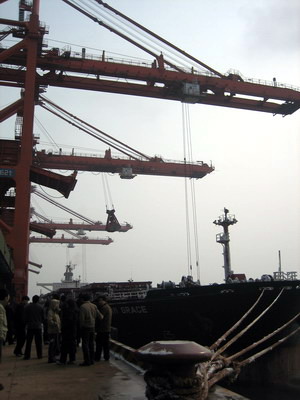 The 250,000-ton mineral port in operation. (chinadaily.com.cn)
Under the above planning, the overall development and construction of Caofeidian will be carried out in two phases, with the main projects including: four 250,000-ton mineral terminals, two 300,000-ton crude oil terminals, sixteen 50,000-10,000-ton coal terminals, and one 100,000-ton LNG (liquefied natural gas) terminal.
Relying on those terminals, the area will launch large iron and steel plants, chemical projects, and electricity works.
To achieve the most efficient use of industrial resources and zero emission of contaminants, projects have been launched to make comprehensive use of resources and industrial wastes, including the construction of a 300,000-ton coal tar processing equipment that will use the coal tar left in iron and steel plants.
Prospects of Caofeidian
According to an investigation conducted by the Ministry of Communications in June 2002, Chinese coastal ports, although in a large number, have a generally low water depth, and need particularly large and specialized terminals, such as container terminals, crude oil and mineral terminals.
Caofeidian, however, can well meet these urgent demands. For example, transport of minerals from Australia costs 260 yean/ton (US$ 31.5) for a 50,000-ton vessel. A change to 200,000-ton ships would reduce costs by 40-50 Yuan/ton.   
Capital Steel & Iron Plant (CSIP) was among the first to make such a calculation and discover Caofeidian. In 1992, it sent employees to carry out a preliminary survey. A mineral terminal appeared there shortly after the survey was completed.
On February 18, 2005, the Chinese Central Government decided to move CISC to Caofeidian. CSIP and Tangshan Steel and Plant will jointly construct a 15-million-ton high-end steel production base, with a first-phase investment of 63.5 billion yuan.
On December 16, 2005, the 250,000-ton mineral port at Caofeidian, a symbolic project in the Caofeidian Industrial Zone and with an annual unloading capacity of 30 million tons, opened for operation.
By February 15 this year, a total of 1.02 million tons of iron ore have been unloaded at the port, exhibiting the huge potential of the northern deep-water port.
To accelerate the overall development of Caofeidian, construction of infrastructure facilities had begun in as early as 2003. The 18.74-km-long Tongdao Highway was finished and put into use in September 2004.

The Qinlin Road, electricity supply, and communication projects were also in operation by the end of 2005.
Other projects, such as the water supply project, the port railway project, and the project to enclose sea for land for the iron and steel plant, will also be completed by the end of this year.