Bias against HIV-infected people
(Xinhua)
Updated: 2006-03-01 13:03
CHENGDU -- Tears rolled out of the corner of his eyes, when Li Bencai recalled what happened 10 years ago after his folk villagers learned that he was tested HIV positive.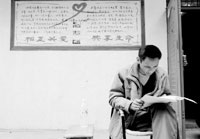 Li Bencai reads scripts for a play on HIV/AIDS in this file photo.

"The disease alienated my friends. Then the loneliness was more fearful than death," Li said.

AIDS has for years been a specter in China. It was seen as a disease stemming from "immoral conduct," since people knew little about how the virus spread.

Li Bencai got infected when he sold blood at an illegal blood-collection center outside his hometown in 1995. He returned home the next year after being tested HIV-positive.

His hometown, a beautiful place named Gongmin in southwest Sichuan Province, has become known to the outside world not for its scenery but for the number of its people infected with HIV/AIDS, as 24 patients there have died of the disease since 1995.

"At that time, we thought AIDS was very dreadful and easy to communicate," Yang Xinhua, a middle-aged woman running a teahouse at the center of Gongmin, told Xinhua, recalling how the town was in a panic.

Li Bencai said that a decade ago, his little daughter even failed to have any friend in her kindergarten.

Li, 10 years after the infection, is taking anti-virus pills to enhance his immunity. He told Xinhua that he is eager to survive as ever before.

In 2002, the Chinese Government designated Gongmin as a pilot area for AIDS care supporting, which was part of the China-UK HIV/AIDS Prevention and Care Project.

The move aimed to create a discrimination-free environment for AIDS patients and HIV-infected people, help them back to normal life, and eventually realize the mutual solicitude between the HIV-infected and healthy people.

According to Zheng Shifan, who is in charge of the project at the provincial public health department, the project has not only employed radio, TV and other media, but also invited local government officials and medical doctors to make publicity for AIDS prevention.

At villages, officials and medical doctors ate in public steamed stuffed buns halved by HIV-infected people, thus convincing the villagers that normal contact with the infected people carries no risk of being infected.

Li Bencai, the 37-year-old owner of a teahouse and a timber mill, said, "If HIV/AIDS infected people remained the target of discrimination, no one would dare to come to my teahouse."

On Tuesday afternoon, guests sat at two tables in Li's teahouse. Peng Gang, aged 27, and three of his friends played mah-jong there.

Peng said, "We won't get infected as long as we act correctly. As the TV program told us, AIDS can only be transmitted in three channels. "

"A brochure for AIDS publicity has been distributed in our town. It is easy to understand, "said one of his friend surnamed Zhang.

A new law, Regulations on AIDS Prevention and Control, took effect as of Wednesday. This will help dispel discrimination against HIV/AIDS infected people in China, Zheng believed.

The rules say no work unit or individual is allowed to discriminate HIV-infected people, AIDS patients or their family members, and these people are protected by law concerning marriage, employment, medical care and schooling.

Prof. Li Yingsheng, a sociologist with the Beijing-based Renmin University of China, attributed the bias against HIV/AIDS infected people to the traditional ethical concepts, mindset over sex and lack of knowledge of health care and hygiene across the country.

"Though the regulations became effective, the law enforcement will be a long-term process. It is hard to change people's mentality,"Li Yingsheng said.

But change has somehow happened.

On Li Bencai's business card, both the titles of timber mill owner and AIDS publicist were printed. He even allowed Xinhua to use his real name in this and other news stories, which was unimaginable before.

According to the Ministry of Health, there are approximately 650,000 HIV-infected people in China, including about 75,000 AIDS patients.