Prosecutors: Saddam approved executions
(AP)
Updated: 2006-03-01 09:54
BAGHDAD, Iraq - Prosecutors presented documents Tuesday they said show Saddam Hussein approved executions of more than 140 Shiites in the 1980s, the most direct evidence yet against the former Iraqi leader in his four-month trial. Among those sentenced to hang was an 11-year-old boy.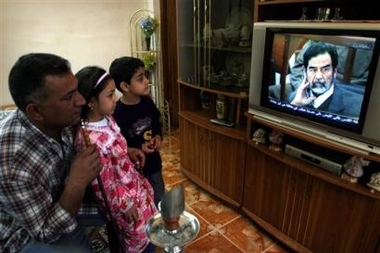 An Iraq family watch the trial of former Iraqi dictator Saddam Hussein on a state television, in Baghdad, Tuesday, Feb. 28, 2006. The trial of Saddam Hussein continued on Tuesday as defense lawyers attended a session, ending a month long boycott of the proceedings. Saddam and seven co-defendants have been on trial since Oct. 19 in the killing of nearly 150 people from the town of Dujail after a 1982 assassination attempt against Saddam there. [AP]
The most significant document featured a signature said to be Saddam's on a court list of people to be executed, though it was not clear he was aware of their ages. The list on that particular document only had names.
About 50 of those sentenced died during interrogation before they could go to the gallows. One man, his brother and two sons were executed by mistake, and Saddam allegedly ordered them declared "martyrs" to cover up the error.
When it was discovered that the 11-year-old and nine other juveniles were not executed but were still in prison years later, they were ordered killed and their bodies buried in secret ¡ª an order approved with a signature the prosecution said was that of the intelligence agency chief at the time, Barzan Ibrahim, who is Saddam's half brother and a co-defendant in the trial.
Saddam, Ibrahim and six other members of the former regime are on trial for torture, imprisonment and the killings of some 148 Shiites in a crackdown launched after a 1982 attempt to assassinate the former Iraqi leader in the town of Dujail. They face death by hanging if convicted.
Tuesday's session was one of the most orderly since the trial began in October. The defense team gave up on a boycott of the tribunal it began last month and attended the session, though chief judge Raouf Abdel-Rahman rejected their demand that he and chief prosecutor Jaafar al-Moussawi step down.
Saddam and the other defendants entered the court and took their seats silently ¡ª in sharp contrast with nearly every other session, which began with Saddam and Ibrahim shouting slogans or arguing with the judge.
Saddam and several other defendants have ended a hunger strike he and some co-defendants started Feb. 12, two days before the last trial session, defense lawyer Khamis al-Obeidi said Sunday.
After the two-hour session, Abdel-Rahman adjourned until Wednesday.