Saudis: 2 would-be bombers on terror list
(AP)
Updated: 2006-02-27 10:14
Saudi Arabia said Sunday that two suicide bombers killed in a foiled attack on the world's biggest oil processing complex were on its list of most-wanted extremists.
The Saudi Interior Ministry in a statement reported by the official Saudi Press Agency identified the two as Abdullah Abdul-Aziz al-Tweijri and Mohammed Saleh al-Gheith and said both were on a list of the 15 most-wanted terrorists the kingdom issued in June.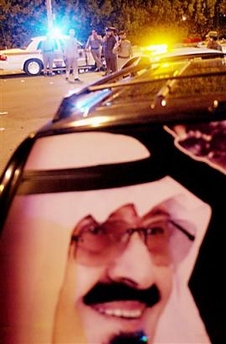 Saudi King Abdullah's picture is seen on a car parked near Saudi Arabia's Abqaiq oil facility Friday, Feb. 24, 2006. Suicide bombers in explosives-laden cars attacked the world's largest oil processing facility Friday, but were prevented from breaking through the gates when guards opened fire on them, causing the vehicles to explode, officials said. [AP]
The deaths of the two meant that only four remain at large of the list of 15. Ten have now died or been killed, and one was previously arrested.
Friday's attack, the first ever on Saudi Arabia's vital oil infrastructure, could have been devastating. Nearly two-thirds of the country's oil flows through the Abqaiq complex for processing before export.
The ministry statement said the attack was carried out using more than a ton of explosives.
The Saudi branch of al-Qaida, which claimed the attack, warned in an Internet statement Saturday that suicide bombers would again strike.
Witnesses on Friday reported that security forces traded fire with gunmen outside the facility after the explosions and that a hunt for attackers continued for hours. Saudi officials have not reported the capture of any assailants.
At least two attackers and two security guards were killed, the state news agency reported.
Al-Qaida militants launched a campaign of violence in Saudi Arabia — bin Laden's birthplace — in 2003.
Saudi security forces have largely had al-Qaida's branch in the kingdom on the run over the past year, arresting hundreds of suspects. They killed or captured all but one of the top 26 militants on a most-wanted list issued in December 2003, then issued the second list in June.
Saudi Arabia holds over 260 billion barrels of proven oil reserves, a quarter of the world's total. It currently puts out about 9.5 million barrels per day, or 11 percent of global consumption.