Analysis: Iraq Crisis Propels al-Sadr
(AP)
Updated: 2006-02-27 09:57
The bombing and bloodshed that pushed Iraq to the brink of civil war have propelled anti-American firebrand Muqtada al-Sadr to the forefront of Iraqi politics. The young Shiite cleric who twice defied America in 2004 now has emerged as a major threat to U.S. plans for Iraq.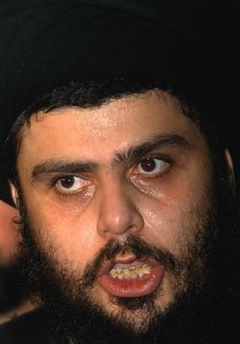 Radical Shiite cleric Muqtada al-Sadr, addresses a press conference, in Najaf, 160 kilometers (100 miles) south of Baghdad, Iraq, Sunday, Feb. 26, 2006, Muqtada al-Sadr returned to Iraq on Sunday after cutting short a regional tour following an explosion at a holy Shiite shrine, which triggered a deadly wave of sectarian violence. [AP]
Al-Sadr had already managed to carve out a strong position in Iraqi politics. His followers won 30 of the 275 parliament seats in the December elections, and his support enabled Prime Minister Ibrahim al-Jaafari to win the nomination of the Shiite bloc for a second term as prime minister.
But the outbreak of Shiite-Sunni violence presented al-Sadr with an opportunity that he was quick the exploit. An increase in al-Sadr's stature is an ominous development for the United States given his opposition to U.S. influence, his links to radical groups and regimes in the Middle East and his militia that undermines state authority.
Through skillful use of intimidation, first, and then concessions, al-Sadr, 31, has profited more than any other Iraqi figure from the unrest that swept the country after the Wednesday bombing of a Shiite shrine, which triggered reprisal attacks against Sunni mosques and clerics.
Many of those reprisal attacks were believed to be the work of al-Sadr's own Mahdi Army militia, which operates in the Shiite slum of Sadr City and in Shiite strongholds throughout the country.
But al-Sadr, who was in Lebanon when the bombing occurred, denied any role in the violence. He quickly joined moderate Shiite clerics in public appeals to halt the attacks.
The fact that the worst of the violence ended after the clerics' appeal added to al-Sadr's prestige, especially since no major Shiite figure has openly challenged his denial of a role in the reprisal attacks.
The message was clear: al-Sadr controls the streets in much of the country, and no agreement to restore order has a chance of success unless he signs off on it. No major Shiite figure, including the country's top cleric Grand Ayatollah Ali al-Sistani himself, would at this point challenge al-Sadr openly.
In effect, al-Sadr's followers stirred up trouble, and then took credit for stopping it.
Even the Americans, who battled al-Sadr's militia in his two major uprisings, appeared unsure how to deal with the cleric. During a press conference Saturday, Maj. Gen. Rick Lynch said sectarian unrest provided the government with "an opportunity to get rid of the militias."
Then Lynch suggested the time was not right for a showdown and that getting rid of the militias will take "a period of time."
Having showed its power in the streets, al-Sadr's movement moved quickly to solidify its political position and broaden its influence among Iraqis at large — actions that pose a major challenge to both mainstream Shiite parties and to the United States.