Pakistan police: 25,000 protest cartoons
(AP)
Updated: 2006-02-27 09:26
About 25,000 people rallied in Karachi against Prophet Muhammad cartoons Sunday while authorities rounded up scores of Islamic hardliners to stop them from demonstrating in another Pakistani city.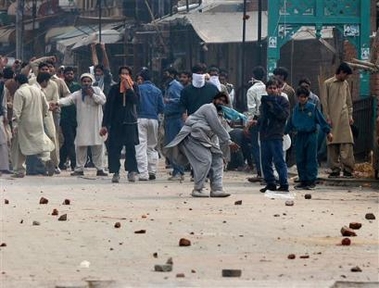 Pakistani protestors throw stone towards police during a rally to condemn the publication of cartoons depicting Islamic Prophet Muhammad, Sunday, Feb. 26, 2006 in Lahore, Pakistan. About 70 people, including clerics and religious schools administrators, were arrested ahead of an illegal rally against the Prophet Muhammad cartoons in the eastern Pakistani city of Lahore, police said. [AP]
Pakistan banned anti-cartoon rallies in Lahore after several demonstrations turned deadly, but protests were allowed to go ahead in Karachi, Pakistan's largest city and economic hub.
Protesters chanted "Down with the blasphemer," "Death to America," and "End diplomatic ties with European countries."
About 25,000 people joined the rally organized by Tahafuz-e-Khatm-e-Nabuwat, a Sunni Muslim religious group, said Shaukat Shah, a Karachi police officer.
The protest was the biggest in the port city since 40,000 rallied there on Feb. 16 against the cartoons, which first appeared in a Danish newspaper.
In Lahore, police thwarted an illegal rally by arresting or detaining without charge some 150 people, including clerics, opposition lawmakers and religious school administrators on Saturday and Sunday, police official Amir Zulfiqar said.
Police also blocked all streets leading to a central Lahore mall where the protest was to be held. Some 15,000 policemen and 3,000 paramilitary troops guarded major traffic intersections, government buildings, mosques and foreign consulates, Lahore police chief Khawaja Khalid Farooq said.
Qazi Hussain Ahmed, a leader of a coalition of six radical Islamic parties, attempted to lead the rally but was taken away in a police vehicle as he tried to break through a police barricade, Zulfiqar said.
Nearly 100 of Ahmed's supporters stood near the police blockade chanting "Punishment for insulting the prophet is death." There was no violence.
Parliamentary opposition leader Maulana Fazlur Rahman, who was prevented by police from boarding a flight to Lahore from Islamabad's airport, vowed that the protests will continue despite Sunday's failure.
"By arresting religious and political workers, the government displayed a dictatorial attitude which is condemnable," Rahman told reporters in the capital.
"The government has shattered democratic values and by its steps it has strengthened those forces which have insulted the prophet," he said.
More protests, which target the President Gen. Pervez Musharraf and the United States as well as the blasphemous cartoons, are scheduled for March 3 — a day before President Bush visits Islamabad.
The Prophet cartoons have ignited violent protests across the Muslim world that have killed at least 45 people. Muslims have denounced the drawings — one of which shows a prophet with a turban shaped like a bomb with a lit fuse — as offensive to their religion.
The caricatures were first published in a Danish newspaper in September, then reprinted by other Western media, mostly in Europe, in the name of free speech and news value. Muslims consider any physical representation of Islam's prophet blasphemous.
"Any insults to the prophets will hurt Muslims," read placards held by some of the protesters. "Don't abuse the freedom of speech."
"I cannot describe how hurt I feel. The Prophet Muhammad is not only the prophet we follow, but he is dearer to us than our own selves," said Wael Ibrahim, an Egyptian sales manager who lives in the city of Shenzhen, across the border in mainland China.
In Malaysia, Prime Minister Abdullah Ahmad Badawi said he had ordered the suspension of a third newspaper that published a photograph showing the cartoons.
The Berita Petang Sarawak, the only Chinese-language evening daily on Borneo island, will be banned from publishing for two weeks starting Sunday, Abdullah said.