Saddam's lawyers call for delay in trial
(AP)
Updated: 2006-02-27 09:17
Saddam Hussein's lawyers are asking for a delay in his trial because of the turmoil that swept Baghdad after the bombing of a Shiite shrine, one of his lawyers said Sunday. A court official said a postponement was possible for the next session on Tuesday.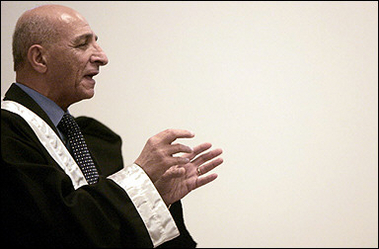 Head Judge Abdel Rahman, seen here on 13 February in Baghdad. Lawyers for Saddam Hussein demanded the disqualification of a judge presiding over the former Iraqi leader's trial, saying he was biased and prejudiced.[AFP]
The defense team's request comes amid sectarian violence and movement restrictions after the bombing Wednesday of a revered Shiite Muslim shrine in Samarra and ensuing reprisal attacks on Sunni mosques and clerics across Iraq. More than 200 people have been killed.
"We have asked for a delay because of the security situation. It will be difficult for our colleagues to attend and there is a curfew as well," said Khamis al-Obeidi, one of Saddam's lawyers. "We have asked the court and are still waiting for an answer."
Some of Saddam's lawyers, among them foreigners, will have to fly into the country.
The government imposed a daytime curfew in Baghdad and three nearby province in the three days after the shrine bombing. On Sunday, the curfew was lifted but driving was banned in Baghdad and its suburbs. Officials said roads would reopen Monday.
Judge Raid Juhi, a court spokesman, said he believed the next trial session might be put off if the situation continued unchanged. "In the end it is the decision of the chief judge," he said.
Saddam and co-defendants have been on trial since Oct. 19 in the killing of nearly 150 people from the town of Dujail after a 1982 assassination attempt against Saddam there. They face death by hanging if convicted.