China slams EU anti-dumping charges on shoes
(Reuters)
Updated: 2006-02-24 17:02
China on Friday denounced the European Union for imposing anti-dumping duties on its leather shoe exports, the latest in a series of disputes that have strained trade ties.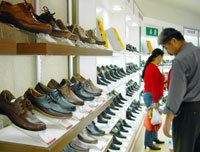 A customer makes a selection of China-made shoes at a market in Yichang, central China's Hubei Province in this August 22, 2005 photo. EU will impose import duties as high as 20 percent on some leather shoes from China and Vietnam starting in April. [newsphoto]

The Commerce Ministry said in a statement on its Web site (www.mofcom.gov.cn) that China was not dumping shoes in the European Union, and that the EU's charges were groundless.

EU Trade Commissioner Peter Mandelson on Thursday announced punitive anti-dumping duties for imports of leather shoes from China and Vietnam.

The duties, to be introduced between April 7 and September 15, will range up to 19.4 percent for Chinese shoes and 16.8 percent for Vietnamese shoes.

In announcing the decision, Mandelson said he had to counter "disguised subsidies" and "state-supported dumping".

"We are not targeting China and Vietnam's natural advantages. We are targeting anti-competitive behaviour," he said.

Chinese Commerce Ministry spokesman Chong Quan dismissed Mandelson's claims.

"It's well known that shoemaking is a labour-intensive industry, and China, with its low labour costs, has a comparative advantage in this industry," he said.

This was the latest incident, he said, in a long history of unfair treatment of China's leather shoe makers, which had long faced quotas in the EU until they were annulled at the beginning of 2005.

"This smacks of protectionism and is completely out of line with the overall trend of free trade represented by the Doha Round," he said, referring to the World Trade Organisation's latest round of trade negotiations.

Chong said that leather shoe manufacturing was one of the most market-orientated industries in China, with 98 percent of such firms being privately owned.

"The European Union ignored this fact and denied the market economy status for China's leather shoe manufacturers, which is full of strong discrimination and goes against the principles of fair trade," he said.

Chong said the EU's investigation was full of problems and was not objective.
He urged his European counterpart to reconsider, saying, "We ask the EU to treat Chinese shoemakers fairly and to reevaluate the issue comprehensively and reasonably."

The shoes case is one of a proliferation of anti-dumping actions involving China, whose exporting prowess is raising political hackles in Europe and the United States.