Iraq sectarian bloodshed leaves 130 dead
(AFP)
Updated: 2006-02-24 09:25
Iraqi President Jalal Talabani warned that widespread rebellion could engulf his war-torn country, as sectarian bloodshed over the past two days claimed the lives of more than 130 people.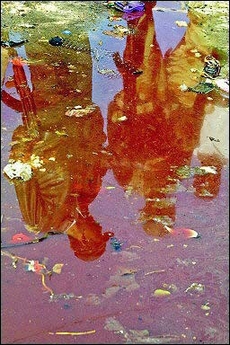 Iraqi soldiers are reflected in a pool of blood at the site where a roadside bomb exploded in central Baquba city, northeast of Baghdad. Iraqi President Jalal Talabani warned that widespread rebellion could engulf his war-torn country, as sectarian bloodshed over the past two days claimed the lives of more than 130 people. [AFP]
Most of those killed are believed to be Sunnis who were gunned down in a wave of retaliation attacks after the bombing Wednesday of a revered Shiite shrine, prompting fears of civil war.
The upsurge in sectarian killings came after suspected Al-Qaeda linked militants attacked the 1,000-year-old Imam Ali al-Hadi mausoleum, one of the countries' main Shiite shrines, in Samarra, north of Baghdad.
Spiralling violence now threatens to derail negotiations on setting up a government of national unity, with the main Sunni political party declaring a boycott of talks with the Shiite-led government to protest reprisal attacks on its community.
The Sunni Arab National Concord Front Thursday also boycotted an emergency meeting of national leaders called by Talabani in a bid to restore calm.
"Putting out the fire of sedition is a sacred duty and requires national unity," Talabani told reporters after the meeting.
"The fire of sedition, when it breaks out, can burn everything in its path and spare no one," he warned.
Mahmud Othman, a member of the Kurdish delegation who attended the meeting, said "everyone" at the meeting spoke of the risk of civil war and expressed concern that Friday prayers, when tensions run high, could trigger a new outburst of violence.
Eighty bullet-riddled corpses were brought to the Baghdad morgue between Wednesday afternoon and Thursday morning, the deputy director of the morgue, Kais Mohammed, told AFP.
"I've only been able to carry out autopsies on 25 of them," he said, adding that all had been shot. Many of them, dumped in and around Baghdad, could not immediately be identified, but they were widely believed to be those of Sunnis.
Another 47 men, shot to death, were discovered alongside 10 burned out cars on the outskirts of Nahrawan, southeast of Baghdad, police said. They were understood to be workers from a nearby brick factory.
One Sunni was also killed Thursday and two wounded in a drive-by shooting outside a Sunni mosque in Baquba, northeast of the capital, and a Sunni sheikh was shot dead in Hillah, south of Baghdad, police said.
Iraq has placed its security forces on high alert, cancelled all leave and imposed a night curfew in Baghdad that is three hours earlier than usual.
US President George W. Bush said the shrine bombing was aimed at creating "civil strife."
In other violence, at least 12 people were killed in a powerful roadside bomb attack in Baquba, 60 kilometers (35 miles) northeast of Baghdad. Eight were Iraqi army soldiers and four civilians, police said, adding 20 people were wounded.
Police also reported finding the bodies of three Iraqi journalists working for Dubai-based Arabiya satellite television who were kidnapped near Samarra Wednesday evening while reporting on the shrine bombing.
On Wednesday following the bloodless bombing of the shrine, dozens of Sunni mosques were attacked despite calls by Grand Ayatollah Ali al-Sistani, the leading Shiite cleric, to refrain from reprisals.
The attack on the Samarra shrine, where the Shiites buried two of their most revered imams in the 9th century AD, destroyed its dome.
The National Concord Front, which controls 44 of the 275 seats in the newly-elected parliament, called on the government to clearly condemn violence against Sunnis and deploy troops to protect them.
"As we await justice we will suspend participation in talks on setting up a government of national unity," the alliance said.
Sunni Islamist militant groups, including Al-Qaeda's branch in Iraq, threatened to retaliate for the attacks on Sunni Arabs, a statement on their Internet site said.
The Shiites are "trying to transform themselves from criminals ... into victims", it charged, warning of "forceful retaliation for acts of aggression against the Sunni community and their mosques".
Prime Minister Ibrahim Jaafari urged Shiite and Sunni religious leaders to preach for unity and peace in their sermons on the Muslim holy day.
"We must take advantage of Friday sermons to guide the people and speak out in favour of unity," Jaafari said.
Iraqi Shiite cleric Moqtada Sadr also called for an end to attacks.
"Shiite and Sunni mosques are being attacked as if we were enemies," said the firebrand cleric in a message he read by telephone on Al-Jazeera satellite channel from the holy city of Qom in Iran.
The US military, meanwhile, Thursday announced that seven of its soldiers died on Wednesday in rebel attacks, taking the total US military deaths in Iraq since the March 2003 invasion to at least 2,290, according to Pentagon figures.