Safe sex next front in China's AIDS battle
(Reuters)
Updated: 2006-02-23 09:24
When Dawei first started having sex, he had no idea that using a condom could help protect him from AIDS. Now he never leaves home without putting a few in his bag.
"I didn't use condoms," said the 23-year-old. "I thought that because we were comfortable with each other, we didn't have to. I had only a very hazy idea about AIDS then."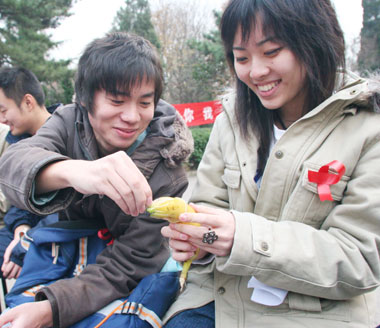 College students learn the correct way to use condoms in Qingdao, east China's Shandong Province in this December 1, 2005 photo. Experts say safe sex is one of the effective ways to prevent AIDS. [newsphoto]

He says he has no idea when he became infected, or by whom. Today he dedicates his life to educating other people about the disease and safe sex.

"It's everyone's responsibility," he says quietly. "This is a common enemy."

Dawei is one of an estimated 650,000 people living with HIV/AIDS in China. Yet the pattern of infection is changing, and that is worrying health experts.

"The sex part, which is now increasing as a mode of transmission, is a very clear sign that it might be moving toward the general population," said Henk Bekedam, the World Health Organisation's representative in China.

But the fight to stop the spread of the disease sexually is being hampered by a lack of education, unwillingness to talk about sex, and in some cases by downright hostility from ordinary people, experts and activists say.

"We've tried to hand out condoms and AIDS information at bars and clubs, but many people don't want to take them," said one Chinese AIDS activist, who asked not to be named.

"They think that if they do, it means you think they are a bad person and that you suspect they might already have AIDS. There is still a lot of shame about sex in China."

INFECTION ROUTE CHANGING

China recorded its first outbreak of AIDS in 1989. During the 1990s, many people -- notably in the central province of Henan -- contracted the virus through contaminated blood transfusions.

Last year, there were about 25,000 deaths from AIDS across China. In January, Beijing lowered by about 30 percent its estimate of the number of people living with HIV/AIDS, yet warned against complacency, saying that the figure was still rising with people unaware of the danger.

"We have a little bit more than 40 percent related to injecting drug use and a little bit less than 40 percent related to sexual transmission. It seems to be reversing," said Joel Rehnstrom, China country coordinator for UNAIDS.