Thousands protest bombing of Shiite mausoleum in Iraq
(AFP)
Updated: 2006-02-22 17:25
Thousands of angry Iraqi Shiites took to the streets of Samarra, north of Baghdad, after bombers struck one of their most celebrated shrines in an attack likely to fuel sectarian strife.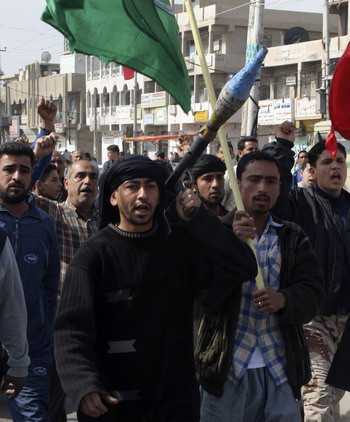 An Iraqi Shi'ite carries a weapon during a protest in Baghdad's Sad'r city February 22, 2006. Bombs wrecked the dome of a major Shi'ite shrine in the Iraqi city of Samarra on Wednesday in an apparent sectarian attack that sparked demonstrations and a call from the top Shi'ite cleric, Grand Ayatollah Ali al-Sistani, for "suitable" protests. [Reuters]
Waving the green flags of Islam and the national Iraqi colours, thousands rallied in the centre of Samarra vowing to punish those responsible for attacking the Imam Ali al-Hadi mausoleum whose golden dome collapsed after two bombs exploded inside the mosque.
"A group of armed men attacked the mausoleum of Imam Ali al-Hadi at 7:00 am (0400 GMT), neutralized the policemen guarding the building before placing two explosives charges and blowing them up," police said.
There were no immediate reports of injuries, but angry demonstrators called for immediate retribution against the bombers, shouting "You will not escape us".
Shops closed and muezzins recited prayers from the loudspeakers of nearby mosques and blamed the United States for the turmoil, saying "God is Great, death to America which brought us terrorism."
Demonstrators carried the turban, sword and shield said to have belonged to Ali al-Hadi, the 10th Shiite imam, shouting "Iman, we are your soldiers".
Tension spread to Baghdad where many Shiites also gathered outside mosques and the headquarters of Shiite political parties.
An official close to Shiite radical leader Moqtada Sadr said the army had turned away young men who had tried to take buses to go to Samarra.
A senior Shiite religious leader, Grand Ayatollah Bashir al Najafi, said the attack was "an odious attack on the heart of Islam and of Iraq and an attempt to stir up sectarianism," his son, Ali Bashir, told AFP.
The mausoleum to the 10th Shiite imam in the town, is an important pilgrimage centre for Shiites.
The head of the Sunni religious endowment organisation, Ahmad Abdel Ghaffur al-Samarrai, immediately condemned the attack, terming it "a criminal act".
The mausoleum which houses the tombs of the 10th and 11th Imams, both sacred to Shiites and Sunnis, is an important pilgrimage centre for Shiites.
Iman Ali al-Hadi died in 868.
The attack was seen as likely to further raise tension between the majority Shiite and minority Sunni communities in the country at a time when political factions bicker over the formation of a 'national unity' government.
The attack came a day after a car bomb killed at least 21 in a mainly Shiite market of Baghdad and two days after another bomb wounded dozens of Shiite daily labourers waiting to work in the capital.
The attacks bore the hallmarks of previous strikes by Sunni extremists allied to Al Qaeda in Iraq on Shiites, who make up 60 percent of Iraq's population and whose political parties won a majority of parliamentary seats in December elections.